Street Symphonies Records & Burning Minds Music Group sono orgogliosi di annunciare tutti i dettagli di "Dyadic", secondo album in studio dei melodic hard-rocker Italiani Alchemy.
Dopo un intero anno di duro lavoro in studio, la band sta ultimando i lavori sull'album con il produttore Pierpaolo "Zorro" Monti, che è attualmente nella fase finale di mix e mastering a cura del rinomato ingegnere del suono Roberto Priori (Danger Zone, Raintimes, Wheels Of Fire). "Dyadic" rappresenta un notevole passo in avanti nella carriera artistica della band, che ha potuto fregiarsi anche del supporto di professionisti del calibro di Davide "Dave Rox" Barbieri (Raintimes, Wheels Of Fire, Room Experience, I.F.O.R., Charming Grace) per la produzione vocale, e Stefano Zeni (Wheels Of Fire, Room Experience, I.F.O.R., Charming Grace) per quanto concerne quella delle chitarre. Non di minore importanza è stata la partnership stretta con lo scrittore indipendente britannico Peter Darley, che ha supervisionato tutto il lavoro di stesura dei testi. Notevoli inoltre sono stati i contributi a livello artistico: James Martin, Tom Martin & Nick Workman (Vega) hanno scritto insieme un brano inedito appositamente per l'album, mentre Davide "Dave Rox" Barbieri, Stefano Zeni e Steve De Biasi (Gunshy, Room Experience, Charming Grace) appaiono nel disco come ospiti speciali.
Il frontman Marcello Spera dichiara:
Abbiamo dato tutti noi stessi durante le fasi di scrittura, registrazione e produzione, e posso orgogliosamente affermare che il risultato è sensazionale. Lavorare a stretto contatto con personaggi della scena melodica che ammiriamo come Zorro, Davide Barbieri e Stefano Zeni ci ha profondamente aiutati a raggiungere il sound e l'approccio professionale che veramente volevamo, e al momento tutto è nelle mani di Roberto Priori… è il suo turno per far avverare tutta la magia annidatasi nell'album in questi mesi di grande lavoro! Posso affermare con assoluta certezza che, dopo aver ascoltato i primi mix di alcuni brani, ci siamo subito resi conto come il contributo di un nome storico quale quello di Roberto avrebbe innalzato in maniera determinante l'asticella a livello qualitativo, grazie alla sua esperienza e dedizione. Preparatevi per un album di solido e frizzante hard-rock, ma con antemiche melodie ed imponenti chitarre!
"Dyadic" è previsto per il rilascio il prossimo 29 Marzo 2019 via Street Symphonies Records / Burning Minds Music Group, con inoltre una speciale edizione limitatissima da collezione creata da Outward Styles (disponibile in esclusiva in sole 50 copie sullo shop online ufficiale dell'etichetta, Rock Temple). Le grafiche del CD sono state curate da Aeglos Art (Airbound, Raintimes, Michael Kratz, Wheels Of Fire), mentre il booklet vanta interessanti liner note introduttive a cura di Fabiana Spinelli (Loud And Proud, Fireworks Magazine, Classix). L'album sarà presentato con un esclusivo evento dal vivo il prossimo 30 Marzo 2019 al Dedolor Music Headquarter (Rovellasca – CO / ITALY), in occasione della terza attesa edizione del festival "A Melodic Rock Night".
Tracklist: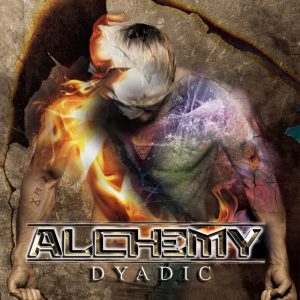 01. Cursed
02. One Step Away
03. Endless Quest
04. What It Takes (feat. Stefano Zeni)
05. Nuketown
06. Day By Day
07. Hero
08. Lost In The Dark
09. Goodbye (duetto con Davide "Dave Rox" Barbieri)
10. Take Another Shot
11. Prisoner
12. Goodbye (Versione acustica feat. Steve De Biasi – Bonus Track Europea)
Line-up:
Marcello Spera: Voce
Cristiano Stefana: Chitarra
Andrew Trabelsi: Tastiere
Matteo Castelli: Basso
Matteo Severini: Batteria e Percussioni
Web/Social Links:
www.facebook.com/musicalchemy
www.burningmindsgroup.com/street-symphonies
www.facebook.com/streetsymphonies