24 settembre 1991.
A qualcuno questa data non dirà nulla, ma per molti è la data della propria morte. Sto parlando della data di pubblicazione di "Nevermind", dei Nirvana, della nascita del Grunge e dell'estinzione delle hair band.
Qualche reduce degli anni 80, ancora oggi parla di quel 1991 come l'anno dell'apocalisse, quando tutto il divertimento ebbe fine o, come cantavano i Tyketto, "The End of the Summer days"!
In realtà, anche se ci ho messo anni a capirlo, era un processo inevitabile.
Perché? Perché tutto il movimento del Sunset Strip faceva fatica a rinnovarsi e il pubblico iniziava a stancarsi di sentire sempre le stesse cose.
Kurt Cobain e le band di Seattle non fecero altro che dare il colpo di grazia ad un genere musicale che era in fase calante.
Così, mentre il mondo del rock dibatteva se era meglio "Your Illusions" I o II, a oltre 1500 km a nord da Los Angeles, iniziava una vera e propria rivoluzione sonora, che di lì a poco avrebbe scritto la parola fine ai dinosauri dell'hard rock.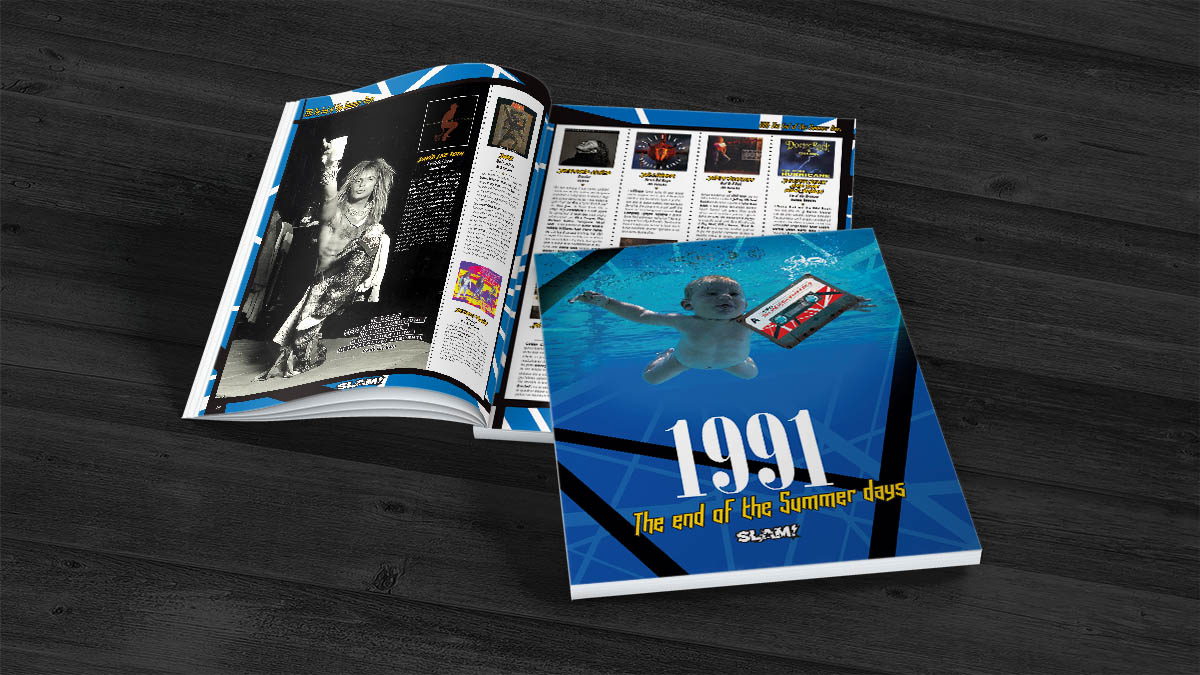 Ho deciso di scrivere un articolo solo sul 1991, per tre motivi:
perché mi sono divertito a riascoltare e a scoprire un sacco di dischi;
2) per dimostrare che nonostante il genere fosse in calo, sono stati pubblicati dei grandi dischi;
3) perché ultimamente sto notando questa tendenza nell'idolatrare i gruppi degli anni '70 e '90, snobbando completamente la decade di mezzo, considerata troppo "frivola" e "spensierata".
Se mi focalizzassi su questo ultimo punto, potrei dire che questi due aggettivi, sono anche sinonimi di divertimento, che è l'essenza stessa del Rock And Roll!
Troppo spesso, ci si dimentica che gente come Guns N' Roses, Europe, Motley Crue, Bon Jovi, Poison o Def Leppard, non solo hanno venduto milioni di copie, ma erano nelle chart insieme a nomi come Madonna e Michael Jackson.
È vero, essere nelle classifiche, non è per forza sinonimo di qualità, ma è anche vero che l'Hair Metal in quel periodo era mainstream ed era supportato da autori e budget che ora si possono permettere solo rapper e popstar.
Ecco perché l'Hair Metal è una fetta importante della storia del Rock.
Sono partito nell'estate di 4 anni fa con un elenco dei migliori album Hair Metal dell'annata, ma stava diventando troppo difficile stilare una lista, così ho deciso di metterci un po' di tutto, dai "classiconi" ai gruppi underground, dallo sleaze all'hard rock, dai dischi fenomenali a quelli che (forse) non sarebbero mai dovuti uscire.
Ho focalizzato la mia attenzione sui gruppi dove cotonature e spandex erano all'ordine del giorno e con nessuna pretesa di stilare la lista definitiva, ma con la speranza di suscitare un po' di curiosità sui nomi meno noti.
1991: End of the Summer Days non è un progetto editoriale e non ha nessuno scopo di lucro, ma una semplice fanzine che cerca di riportare a galla dischi più o meno conosciuti.
Il prezzo dello Speciale copre esclusivamente i costi di stampa e di spedizione.
38 Special
8084
Accelerator
Adrenalin Kick
Airkraft
Aldo Nova
Alice Cooper
Almighty
The Angels
Aprilz Fool
Arch Rival
Asphalt Ballet
Bad Attitude
Bad Candy
Bad Romance
Bad English
Badlands
Bad Moon Rising
Bai Bang
Bang Tango
Baton Rouge
BB Steal
Big House
B-Joe
Black Cat Moan
Blackeyed Susan
Blaz-On
Bloodgood
The Bloody Stools
Blue
Blue Blood
Bonfire
Brighton Rock
Britny Fox
Bryan Adams
Bulletboys
Cadillac Bratz
Casanova
Cats:Choir
Celebrity Skin
Cheyenne
China
China Rain
Circle Of Soul
Contraband
Crash N' Burn
The CryBabys
Cult
Dag Finn
Dan Reed Network
Danger Danger
Dangerous Toys
Darby Mills
Dare
David Lee Roth
Desert Rain
Desmond Child
Diamond Rexx
Dillinger
Dirty Looks
Dirty Rhythm
Doctor Rock
Dogs D'amour
Drivin' N' Cryin'
Electrik
Enuff Z'Nuff
Erika
Europe
EZ Livin
Fighter
Flies Of Fire
FM
Foreigner
Four Horsemen
Foxx
Glorious Bankrobbers
Glory
GMT
Great Big Kisses
Great White
Gringos Locos
Guns N' Roses
Hall Aflame
Halo
Harem Scarem
Havana Black
Heartland
Honeymoon Suite
Horsepower
Howe II
Ice Tiger
Idle Cure
I Love You
I, Napoleon
It's Alive
Jackflash
Javan
Jax
Johnny Law
Junkyard
Kane Roberts
Katmandu
Kik Tracee
Kingdom Come
KingOfTheHill
Kix
KK Wilde
L.A. Guns
Klaatu
The Knack
The Law
Law And Order
Lee Aaron
Legend
Lisa Dominique
Lita Ford
Little Angels
The Lost
Lost City
Love/Hate
Love Life
Lynyrd Skynyrd
Manito Park
Mariah
Mark Pogue And
Fortress
John Porter
McQueen Street
Merzy
M.ILL.ION
McQueen Street
Michael Morales
Motley Crue
Motorcycle Boy
Mr. Big
Mr. Meana
Mystery
Nasty Habit
Nasty Idols
Nazareth
The Neighborhoods
Neverland
New Tattoo
New Dynasty
Novella
Nitro
Noisy Mama
NVS
Outlaw Blood
Ozzy Osbourne
Petra
Pink Cream 69
Pleezer
Steve Plunkett
Powerage
Poison
Prophet
Radio Active Cats
Radio Moscow
Ransom
Rated X
Rattlesnake Kiss
Ratt
Razor White
Reptile Smile
Return
Richard Marx
Richie Sambora
Roadhouse
Royal Tramps
Saraya
Sargant Fury
Scarecrow
The Scream
The Screaming Jets
Shadow King
Shanghai
Shanghai'd Guts
Siloam
Skid Row
Skull
Torben Schmidt
Snakepit Rebels
Spiders & Snakes
Stage Dolls
Chrissy Steele
The Storm
Straight Up
Stranger
Stryper
Surrender
Susie Hatton
Sweet F.A.
Tall Stories
Tangier
Ken Tamplin
Tattoo Rodeo
Tattooed Love Boys
Tesla
Thunderhead
The Throbs
Tigertailz
Tipsy Wit
The Toll
Tornado Babies
Touris
Transit
Triple X
Tuff
Tyketto
Ugly Kid Joe
The Ultras
Under Fire
Van Halen
Warrior Soul
W.E.T
White Lion
Whitecross
Wighthouse
Wanderland
Rudy Wild
Wild August
Wild Boyz
Wild Horses
Wolfsbane
Worrall
X-Sinner
XYZ
=Y=
Yesterday and Today
Zar
Dweezil Zappa
Zaza
Zeros
Zodiac Mindwarp