Gli L.A. Guns di Phil Lewis e Tracii Guns, hanno annunciato che pubblicazione di un nuovo album dal vivo, "Cocked & Loaded Live" in uscita il 9 luglio.
Come suggerisce il titolo, la performance celebra il leggendario secondo disco della band. La release precede l'uscita di un nuovissimo album in studio di previsto per il prossimo autunno.
Preordina "Cocked & Loaded Live" su CD / Vinile a colori / Digitale QUI: https://orcd.co/lagunslive
Registrato al Fremont Country Club di Las Vegas, per celebrare il 31° anniversario di "Cocked and Loaded", vede sul palco gli storici membri Phil Lewis e Tracii Guns, insieme a loro Ace Von Johnson, Johnny Martin e Scotty Coogan, si sono quindi esibiti in uno spettacolo unico nel suo genere che è stato trasmesso in streaming in tutto il mondo durante il periodo di lockdown. La band ha eseguito tutti i classici, a "Rip and Tear" a "Never Enough", "The Ballad of Jayne", "I Wanna Be Your Man" e "Malaria".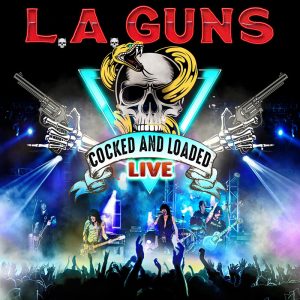 Tracklist:
1. Slap In The Face
2. Rip And Tear
3. Sleazy Come Easy Go
4. Never Enough
5. Malaria
6. The Ballad Of Jayne
7. Magdalaine
8. Give A Little
9. Speed
10. 17 Crash
11. Showdown (Riot On Sunset)
12. Wheels Of Fire
13. I Wanna Be Your Man
Line-up:
Tracii Guns
Phil Lewis
Scot Coogan
Ace Von Johnson
Johnny Martin
https://www.lagunsmusic.com/  
https://www.facebook.com/L.A.GunsOfficial/ 
https://www.instagram.com/laguns/ 
https://twitter.com/laguns