Il gruppo nasce a Charlotte, North Carolina, dal frontman Tommy DeCarlo, conosciuto per aver cantato nei Boston fino al 2007. Insieme a lui nella band troviamo il figlio Tommy DeCarlo Jr. alla chistarra, il batterista Dan Hitz, il bassista David Netta e Payton Velligan (keyboard, chitarra e voce).
"Lightning Strikes Twice" è un disco di melodic rock, influenzato da band come Boston, Foreigner, Survivor e REO Speedwagon, questo il commento di DeCarlo:
Without question, musically Tom Scholz has been my biggest influence. He along with Brad Delp created pure magic in the studio, Brad with his amazing voice and Tom of course being one of the best songwriter/producers I've ever heard, touched not only me, but millions with their recordings. I could name quite a few other bands that influenced me as well, but none as much as the music of the band Boston!

We're very excited about the release of "Lightning Strikes Twice"! As an artist/songwriter you're always going to be proud of your work, but there's nothing more gratifying than to please those who matter most…the fans! It's our hope that the music on this debut release will in some way/shape or form touch those who take the time to listen to it.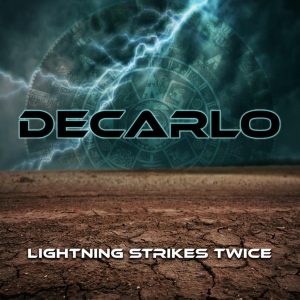 Tracklist:
1. A Better Day
2. You Are The Fire
3. Give Love A Try
4. Into The Storm
5. Lightning Strikes Twice
6. Still In Love
7. Rock N' Soul
8. There She Goes
9. Stand Up (Play Ball)
10. The One
11. Gotta Go
12. I Think I Fell In Love With You
Line-up:
Tommy DeCarlo – vocals
Tommy DeCarlo Jr – guitars
Dan Hitz – drums
David Netta – bass
Payton Velligan – keyboard/guitar/vocals
www.facebook.com/DECARLOROCKS/
www.instagram.com/decarlorocks
twitter.com/decarlorocks