Gli Starsick System pubblicano oggi il primo singolo tratto dal nuovo album "Lies, Hopes & Other Stories". Si tratta del brano "Bulletproof", terza esplosiva traccia dell'album di cui è disponibile anche il lyric video.
Le parole di Valeria Battain, bassista della band:
Bulletproof è un brano di ribellione ma con un tono ironico. Ogni persona che lo ascolterà potrà interpretarlo in modo personale ma il messaggio di fondo è il medesimo: combatti per ciò che credi, indipendentemente da ciò che le altre persone possano dire, sfida il tuo nemico, sii orgoglioso di te stesso e riprenditi il rispetto che meriti contro i bulli, gli egoisti e gli arroganti. Abbiamo scelto questo brano come primo singolo perché il mood e le melodie sono la perfetta evoluzione del nostro sound: l'unione di riff heavy e ritornelli catchy, il nostro marchio di fabbrica

Bulletproof è disponibile anche sulle principali piattaforme digitali -> http://smarturl.it/BulletproofSingle
Viene svelata oggi anche la tracklist del nuovo album in uscita il 23 giugno per Pride & Joy Music. Gli 11 brani scelti dalla band comprenderanno anche "You Know My Name", cover del famoso brano di Chris Cornell tratto dalla colonna sonora di 007 Casino Royale.
Tracklist: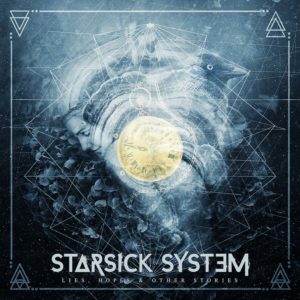 01. Nebolus
02. I Am The Hurricane
03. Bulletproof
04. Sinner
05. The Promise
06. Scars
07. Everything And More
08. Come One, Come All
09. Perfect Lie
10. Hope
11. You Know My Name (Chris Cornell Cover)
"Lies, Hopes And Other Stories" è stato prodotto, mixato e masterizzato da Ivan Moni Bidin agli Artesonika Studio di Pordenone.
La musica è stata scritta da Ivan Moni Bidin, testi a cura di Valeria Battain, arrangiamenti di Valeria Battain e Starsick System.
Artwork by Dixon Jong @ Intuitive Design
Album Pre-Order -> http://hyperurl.co/StarsickHopesLies
STARSICK SYSTEM Next Shows
09 Giugno @ Rock In Park c/o Legend Club, Milano – Info: www.facebook.com/rockinparkfest
23 Giugno @ Rock'n'Roll, Rho (MI) – Release Party
BIO
Gli STARSICK SYSTEM sono nati nel 2012 dall'unione di quattro musicisti d'esperienza sulla scena: voce e chitarra Marco Sandron (Pathosray, Eden's Curse, Fairyland, etc), al basso Valeria Battain e alla chitarra solista David Donati (meglio noto nei Syrayde), ai quali si è aggiunto per questo disco, in qualità di produttore – songwriter e batterista, Ivan Moni Bidin (Pathosray, Ashent, Garden Wall, Syrayde, ecc.), dando luce a nuovi suoni e approcci melodici.
Dopo anni passati quindi all'interno della scena metal con le precedent band, i quattro ragazzi decidono di fondere le proprie differenti esperienze e i propri diversi approcci musicali in una nuova band focalizzata sulla melodia e sulla mera "forma canzone", con canzoni e strutture più dirette.
Durante il 2014 registrano l'album di debutto che vede alla produzione artistica il batterista Ivan Moni Bidin e firmano immediatamente il primo contratto discografico con Scarlet/Bakerteam Records. "Daydreamin'" esce il 14 Aprile 2015 e viene notato fin dal primo giorno da tutti gli addetti ai lavori italiani e non, che lo accolgono come "nuova rivelazione" e lo eleggono in primis album dell'anno e poi lo inseriscono tra i migliori dischi 2015.
La band suona come support act dei BLACK LABEL SOCIETY di Zakk Wylde nel 2015 e viene scelta per suonare con l'attuale chitarrista di Ozzy, GUS G. L
Link Video Ufficiale "Believe" -> https://youtu.be/thCIf_wc9kU
Il nuovo album della band "Lies, Hopes & Other Stories" uscirà il prossimo 23 Giugno 2017 per l'etichetta tedesca Pride & Joy Music.
LINE-UP:
Marco Sandron – voce, chitarra
David Donati – chitarra
Ivan Moni Bidin – batteria
Valeria Battain – basso