Art Of Melody Music e Burning Minds Music Group annunciano con piacere l'uscita dell'autointitolato debut album dei melodic rocker italiani Airbound, prevista per il 15 Settembre 2017 via Art Of Melody Music / Burning Minds Music Group in Europa, e ad Ottobre via AnderStein Music in Giappone.
"Airbound" mostra l'amore del gruppo per l'AOR e per il rock melodico, evidenziato da dieci brillanti tracce influenzate da Journey e Survivor, ma rese al passo coi tempi da un sound personale e fresco. Per garantire maggior consistenza in studio e conferire una dimensione internazionale al proprio esordio, gli Airbound si sono avvalsi della collaborazione di ospiti speciali come Sven Larsson (Street Talk, Raintimes, Room Experience), Davide "Dave Rox" Barbieri (Wheels Of Fire, Raintimes, Charming Grace, Room Experience), Mario Percudani (Hungryheart, Shining Line, Ted Poley, Axe) e Josh Zighetti (Hungryheart, Charming Grace), che hanno messo la loro esperienza e abilità tecnica al servizio dell'album.
Il disco è stato prodotto dalla band con il supporto del sound engineer Oscar Burato, che ha anche mixato e masterizzato tutte le tracce presso l'Atomic Stuff Studio di Isorella (BS). Le grafiche (incluso l'artwork di copertina alternativo per il Giappone) sono state realizzate ancora una volta da Aeglos Art (Viana, Charming Grace, Room Experience, Raintimes), e nel booklet del cd sono inoltre incluse delle liner notes introduttive a cura di Denis Abello, caporedattore di Melodicrock.it.
"Airbound" rappresenta inoltre il ritorno sulle scene dopo anni di silenzio del cantante Tomás Borgogna, già noto nell'ambiente del rock melodico come frontman dei Borgogna, il cui unico album "Something To Lean On" è stato pubblicato nel 2010 da Steelheart Records. Questa prima prova in studio degli Airbound saprà senza dubbio colpire gli appassionati del rock melodico più classico, con melodie brillanti, ritornelli vincenti, tastiere pompose ed un solido lavoro di produzione. Le indiscutibili qualità dei musicisti riportano in auge il grande melodic rock sound degli anni d'oro con stile, ricercatezza e indomabile passione.
Line-up:
Tomás Borgogna: Voce & Backing Vocals
Lorenzo Foddai: Chitarra & Backing Vocals
Angelo Sasso: Basso & Backing Vocals
Alessandro Broggi: Tastiere & Backing Vocals
Riccardo Zappa: Batteria & Percussioni
Album Track List: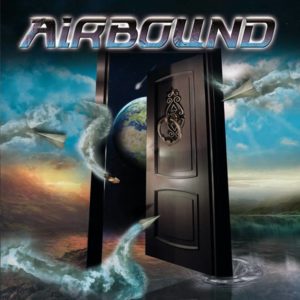 01. Have A Good Time
02. The Sun Tomorrow
03. Till The End
04. You Live & You Learn
05. Don't Fade Away
06. Zhaneta
07. Runaway
08. Wasted World
09. She's A Girl
10. Seven Seas
11. Till The End (Cinematic Version – Japanese Bonus Track)
www.facebook.com/airboundofficial