Atomic Stuff Promotion è lieta di presentare il nuovo disco degli sleaze rocker finlandesi Groupie High School intitolato "…Ladies & Gentlemen".
Track List: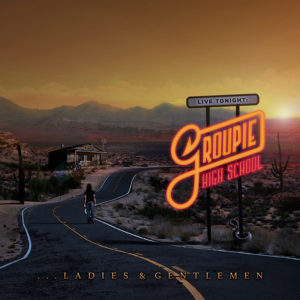 1. Ladies & Gentlemen (Intro by Bruce Buffer)
2. Chick With The Flips
3. Liquid Lunch
4. My Medicine Woman
5. Hard To Breathe
6. This Is How We Say Goodbye
7. Navy Blue (bonus track)
Line-up:
Vinny Olavi, voce
Matt Nitro, chitarra
Smippe Youngblood, chitarra
Tom Sebastian Dexter, Basso
J.J. Mickey, batteria
Biografia:
I Groupie High School sono una rock band proveniente da Oulu, Finlandia. Cinque ragazzi che suonano un hard rock cazzuto, sleazy e decisamente propenso al divertimento sfrenato! Dopo la loro prima esibizione, tenutasi nel 2012 al Nuclear Nightclub, hanno preso parte a circa 200 concerti in Finlandia, zone Baltiche e il resto della Scandinavia. Il loro primo tour promozionale, 'Spring Break', ha fatto registrare 20 date in patria fra cui due apparizioni ad importanti festival come il Kuopio RockCock ed il Grand Pappa Nationals che nel bill poteva vantare artisti del calibro di Nightwish e Negative. In seguito il gruppo si è iscritto al 'Riot Tour' che li ha portati alle finali del Kivenlahtirock Band Competition al Bar Backstage di Helsinki, dove hanno sfidato gli Shiraz Lane e a tre concerti che hanno registrato il tutto esaurito a Stoccolma e Oslo. Negli anni successivi, il combo finnico ha realizzato il suo primo EP ai Soundmix Studios, preso parte al Trash Fest VII di Tallinn, Estonia, e continuato a suonare assieme ad alcune delle più promettenti band scandinave (NiteRain, Santa Cruz, Reckless Love, Battle Beast, Temple Balls). Il nuovo lavoro "…Ladies & Gentlemen" esce in formato digitale nel Dicembre del 2016 e in formato fisico nel Gennaio del 2017; dal disco vengono girati diversi video: "Liquid Lunch", "Eyes Like The Ocean Sky", "Half-Price Murder, Double-Price Coke" e "Lovers In The Dreamland". Allo stesso tempo, le canzoni iniziano a passare nelle radio di tutto il mondo. Il quintetto intende promuovere il nuovo lavoro con una serie di imperdibili concerti in Scandinavia e in Europa Occidentale. La miccia è stata accesa, restate sintonizzati e memorizzate questo nome: Groupie High School!
Web:
www.facebook.com/groupiehighschool
www.atomicstuff.com/groupiehighschool.html
www.youtube.com/channel/UC2Q8zQCNQSWlYrZuOvKfd9w