DeFox Records e Heart Of Steel Records sono orgogliosi di annunciare la versione digitale del debut album dei CARNIVAL SUN intitolato "Sun of a bitch" pubblicato in vinile nel 2011.
Lo stile musicale della band svedese è influenzato dagli anni 70's e 80's, dall'Hard Rock'n'Roll energetico e melodico.
La release digitale sarà disponibile dal 30 di Maggio 2014 su tutti i migliori webstores, iTunes, Amazon, Spotify, Deezer, Google Music, Nokia, Emusic…
I Carnival Sun vantano un live act tra i più infuocati ed emozionanti che si possa trovare nella prolifica scena musicale scandinava.
La band ha recentemente sostituito il singer Niklas Svensson con Emil Roos ed è pronta ad invadere il resto dell'Europa con l'energia rivitalizzante fatta di tanto Rock e passione!
Line-up:
Andreas Hall: Guitars
Jesper Persson: Drums
Niclas "Ankan" Lundgren: Bass
Emil Roos: Vocals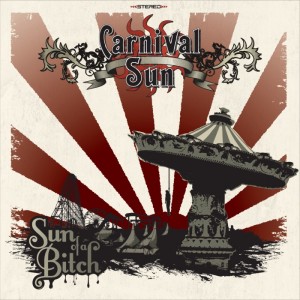 Track list:
1. Sun of a Bitch
2. Blind Man's Aim
3. We've Come to Rock
4. Little Soul
5. Sentenced to Hell
6. The Art of Decadence
7. A Walk on the Edge
8. Wicked Ways
9. Soul for Sale
10. The Hanged Man
Band site: http://carnivalsun.nlz.it – PREVIEW AUDIO!!
https://www.facebook.com/pages/Carnival-Sun-Official/111759022177121?fref=ts
Label site: http://heartofsteel.nlz.it
Press Bureau: http://dvlgator.nlz.it