Max Antonaci Management è lieto di annunciare che è disponibile ufficialmente su tutte le piattaforme digitali dal 29/05/2020.
Si tratta di un altro capitolo, tutto da scoprire, che hanno concluso proprio con un audace, grintoso e potente sound.
E' di fatto un mix variegato dagli arrangiamenti sopraffini, incanalato tra un melodic hard rock spregiudicato e uno sleaze punk decadente, prodotto dal frontman della band Peter Waljus e missato da Svein Jensen al Grand Recordings Studio di Göteborg.
La band inizia dalla strada, suonando nei club dei sobborghi di Stoccolma, la misteriosa ed elegante capitale svedese. Solo dopo aver collezionato varie esibizioni dal vivo, finalmente nel 2013 esce il primo omonimo lavoro in studio, "Highride", prodotto da Tomas Skogsberg (Backyard Babies, The Hellacopters, Entombed).
Attraverso questa pubblicazione riescono ad esibirsi in contesti importanti, condividendo il palco con gli Hardcore Superstar e i Crashdïet. E' proprio ai Crashdïet che aprono i concerti di alcune tappe europee dell'Idiots On Tour lo scorso ottobre.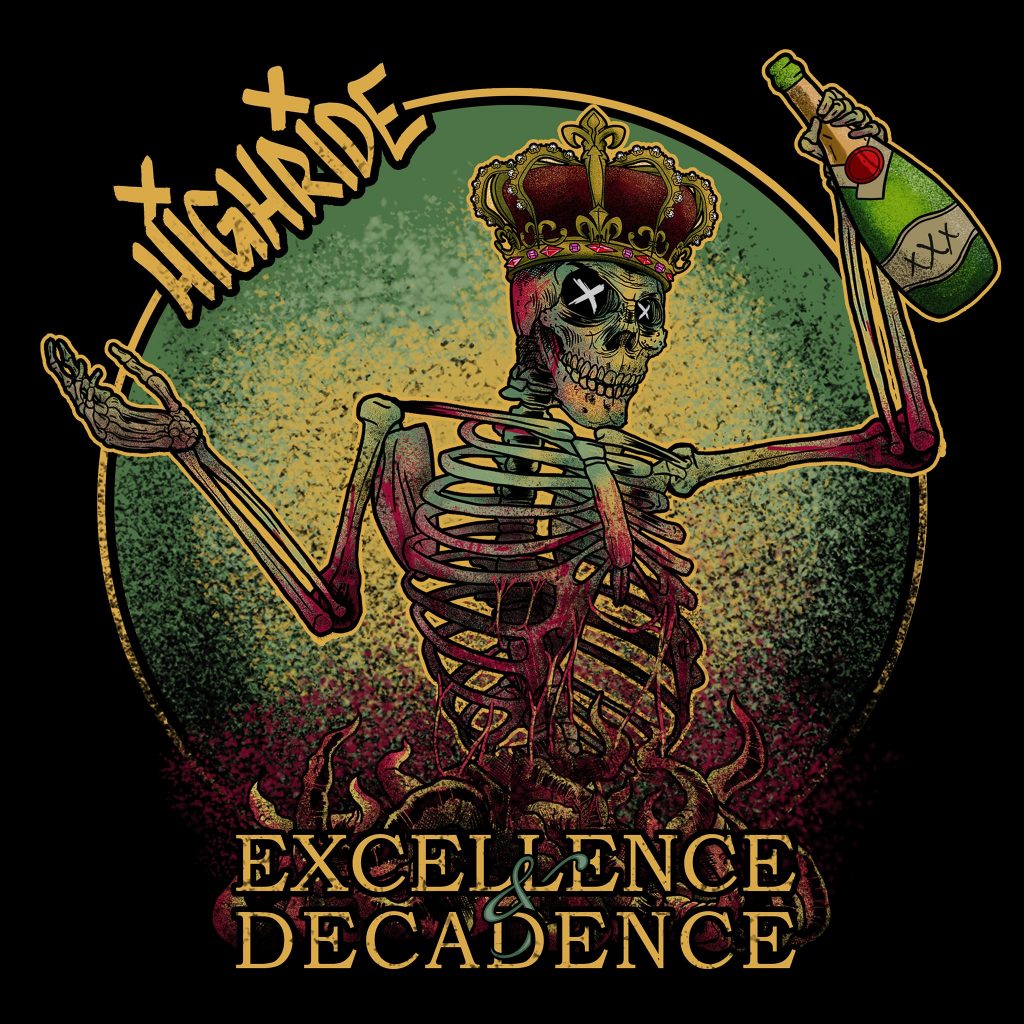 Il messaggio, oltre a varie altre tematiche, presenta sfumature introspettive, come la canzone "Superstarblind".
Il protagonista narrato nelle liriche della track è un personaggio immaginario che si pavoneggia dietro ai mille lustrini della ribalta, come la parte più frivola e scellerata presente nell'animo umano. Anche il titolo è una dicotomia: "Excellence And Decadence".
Sono due parole contrapposte che simboleggiano le fasi di luce e ombra di una carriera artistica, così come gli alti e bassi che incontriamo nella vita.
E' il prodotto di un faticoso e lungo cammino intrapreso con consapevolezza, dopo vari cambi di line up, in cui hanno riscosso da sempre consensi sia dai fan che dalla stampa di settore, soprattutto durante le performance dal vivo.
CD, vinili e nuova merchandising stanno marciando più lentamente a causa della pandemia causata dal COVID-19. In ogni caso, sia l'album fisico che tutto ciò che riguarda il mondo degli Highride è disponibile in pre-ordinazione su: www.highride.se/shop con consegna approssimativa dal 19 giugno 2020.
Spotify: www.spoti.fi/3ccIBNI
Apple Music: www.apple.co/2BcypIi
___________________________________
Highride lineup:
Peter Waljus – Vocals & Guitar
Mille Lithander – Guitar & Vocals
Kriss Keyes – Bass & Vocals
Nicke Rosell – Drums
___________________________________
More information on:
Highride Official Website: www.highride.se
Facebook: www.facebook.com/highride
Instagram: www.instagram.com/highride