Nuclear Blast pubblicherà il terzo album in studio dei BLACK STAR RIDERS, "Heavy Fire", il 3 febbraio 2017.
Il precedente disco della band, "The Killer Instinct", venne pubblicato nel 2015, ottenendo un grande successo di critica e innumerevoli passaggi radiofonici in tutto il mondo. Il tour mondiale si è concluso con un indimenticabile tour nelle arene del Regno Unito a dicembre 2015 con DEF LEPPARD e WHITESNAKE.
Nel 2016 la band è rientrata in studio appena fuori Nashville (USA) con il produttore di "The Killer Instinct" Nick Raskulinecz (RUSH, THE FOO FIGHTERS, MASTODON). I BLACK STAR RIDERS hanno così realizzato il loro più completo lavoro di sempre. I riff immediati dell'opener 'Heavy Fire', il primo singolo 'When The Night Comes In' (youtu.be/aR-w6_IH7hE), lo sporco groove del basso di 'Thinking About You Could Get Me Killed' e le chitarre che sono ormai un marchio di fabbrica di Gorham e Johnson in 'Testify Or Say Goodbye' mettono in luce come questo disco sia destinato a cementare la reputazione dei BLACK STAR RIDERS come una delle migliori band rock del mondo.
Angoscia, passione, potere, gloria, amore, verità, menzogna, fedeltà, domande che necessitano di risposte. C'è un esercito di chitarre che avanza… e sta portando con sé la 'Heavy Fire'!
Ricky Warwick
Di questi tempi non sono molte le nuove band che arrivano a registrare tre album. Senza dubbio questo è il miglior album che i BSR abbiano realizzato finora. Registrarlo è stato fantastico e non vedo l'ora di suonare le nuove canzoni dal vivo in tour a marzo.
Scott Gorham
Dopo i loro album acclamati dalla critica "All Hell Breaks Loose" e "The Killer Instinct" che hanno consentito ai BLACK STAR RIDERS di essere riconosciuti come una vera potenza nel rock'n'roll moderno, "Heavy Fire" verrà ancora una volta pubblicato da Nuclear Blast Entertainment. La band attraverso PledgeMusic, una delle piattaforme più innovative e di successo che il mondo della musica oggi conosca, offre ai fan alcuni prodotti speciali e esperienze esclusive legate all'uscita dell'album.
Il disco verrà pubblicato in Limited Edition Digibook CD (con bonus track), CD, Vinile, Vinile Pic Disc, digitale Nuclear Blast mail order: vinile in edizione limitata Orange & Clear
Tracklist: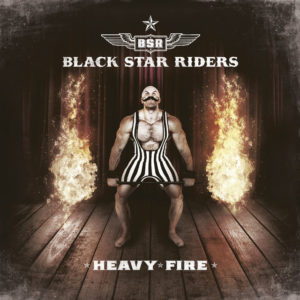 CD
1. Heavy Fire
2. When The Night Comes In
3. Dancing With The Wrong Girl
4. Who Rides The Tiger
5. Cold War Love
6. Testify Or Say Goodbye
7. Thinking About You Could Get Me Killed
8. True Blue Kid
9. Ticket To Rise
10. Letting Go Of Me
11. Fade (bonus track Limited Edition Digibook CD)
Limited Edition Gatefold Vinyl
Limited Edition Picture Disc
Side One
1. Heavy Fire
2. When The Night Comes In
3. Dancing With The Wrong Girl
4. Who Rides The Tiger
5. Cold War Love
 Side Two
1. Testify Or Say Goodbye
2. Thinking About You Could Get Me Killed
3. True Blue Kid
4. Ticket To Rise
5. Letting Go Of Me
Pre-ordini: http://nblast.de/BSRHeavyFireNB
Pre-ordini digitale: http://www.nuclearblast.de/de/label/music/band/downloads/2825266.black-star-riders.html
I BLACK STAR RIDERS (Ricky Warwick, Scott Gorham, Damon Johnson, Robert Crane e Jimmy DeGrasso) saranno in tour in UK e Irlanda a marzo:
con GUN, THE AMORETTES
02/03/  UK       Cardiff – Tramshed
03/03/  UK       Wrexham – William Aston Hall
04/03/  IRL      Dublin – Academy
05/03/  UK       Belfast – Limelight
07/03/  UK       Inverness – Ironworks
con  BACKYARD BABIES, GUN
08/03/  UK       Glasgow – o2 ABC
09/03/  UK       Glasgow – o2 ABC
10/03/  UK       Newcastle – o2 Academy
11/03/  UK       Leeds – o2 Academy
12/03/  UK       Manchester – o2 Ritz
14/03/  UK       Nottingham – Rock City
15/03/  UK       Norwich – UEA
16/03/  UK       Bristol – o2 Academy
17/03/  UK       London – o2 Kentish Town Forum
18/03/  UK       Birmingham – o2 Institute
19/03/  UK       Bournemouth – o2 Academy
www.blackstarriders.com
www.facebook.com/blackstarridersofficial
www.nuclearblast.de/blackstarriders