Gli HARDCORE SUPERSTAR hanno recentemente pubblicato il loro nuovo album Abrakadabra, canzoni pieni di riff intrisi di alcol, che mostrano, ancora una volta il meglio della band: rock n' roll e intrattenimento allo stato puro.
La band porterà sul palco anche i loro maggiori successi come We Don't Celebrate Sundays, Wild Boys, You Can't Kill My Rock 'n Roll, Last Call For Alcohol, Bring The House Down, Moonshine, Catch Me If You Can e Above The Law per una serata imperdibile.
Usciti da Göteborg con il loro album di debutto del 1998, gli Hardcore Superstar hanno dimostrato di essere all'altezza della generazione di rocker di Los Angeles che li hanno preceduti, mescolando differenti generi musicali, dal punk all'heavy metal più duro e aggressivo ad un hard rock orecchiabile. Il risultato è stato: "It's Only Rock N' Roll" e possiamo oramai definirli un punto fermo nella storia della musica, dando vita a un genere ibrido completamente nuovo.
Special guest: GILBY CLARKE (ex Guns'n'Roses)
Noto soprattutto per essere stato il chitarrista degli ultimi "veri" GUNS N' ROSES prima della reunion, era "Spaghetti Incident", Gilby ripercorrerà in questo concerto le tappe più importanti della sua fantastica carriera: dagli esordi coi seminali KILL FOR THRILLS, passando per i GUNS N' ROSES e l'esperienza di ROCKSTAR SUPERNOVA insieme a Tommy Lee, Dave Navarro e Jason Newsted.
Uno show imperdibile con set in elettrico, ad accompagnare Gilby ci sarà al basso EJ e alla batteria Troy Patrick Farrell (White Lion).
Ad impreziosire la serata ci saranno anche:
17 CRASH
www.facebook.com/17Crash
LESTER GREENOWSKI
www.facebook.com/LesterGreenowskimusic
WARDOGS (OFFICIAL TRIBUTE RAMONES)
www.facebook.com/p/WARDOGS-Ramones-Tribute-Band
📆 9 Luglio 2023 | Parco Della Musica, PADOVA
🎫 Ticket disponibili online solamente su DICE qui: https://link.dice.fm/c92f32cb16cd o in cassa la sera del concerto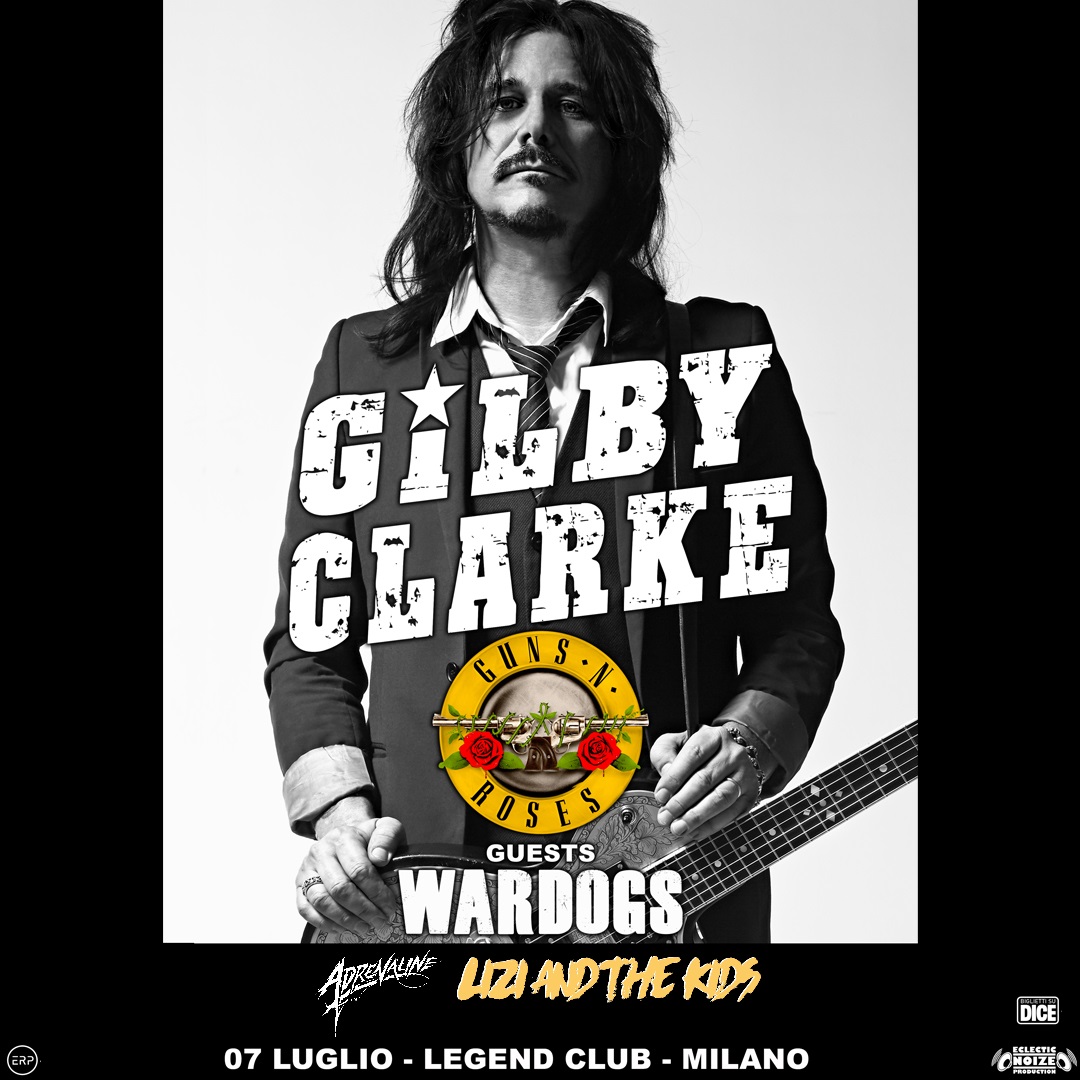 Dopo 7 anni torna in Itałia per una data da Headliner Gilby Clarke!
Il 7 luglio percorrerà tutta la sua carriera, da Kill For Thrills a Guns'n' Roses passando per i suoi dischi solisti.
Prima lui Wardogs, con il loro set Ramones al fulmicotone, Lizi and The Kids, reduci dai concerti in terra americana e ła data jesolona insieme a Sum 41 e Adrenaline
📆 7 Luglio 2023 | Legend Club, MILANO
www.facebook.com/events/175607168575416