Gli hard rocker di Baltimora Charm City Devils usciranno con il terzo album dal titolo "Battles".
L'album uscirà il 23 settembre per la The End Records/ADA ed è stato prodotto da Skidd Mills (Saving Abel, Egypt Central, 12 Stones), questo invece il commento del frontman John Allen:
"Working with Skidd was a no-brainer really! He manned the board for our highest charting single and always gets the sweetest tones! Plus, he's a good, down to earth dude, he's one of us. We are so excited about our new relationship with The End and ADA! We are looking forward to great things with our new label partners!"
Questa la tracklisting di "Battles"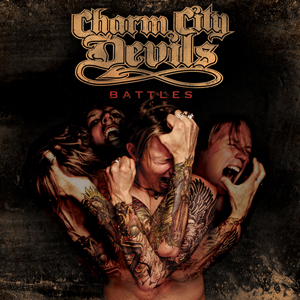 01. Tear It Apart
02. Crucify
03. Shots
04. Everyday
05. Want
06. God's Gonna Cut You Down
07. Lying To Yourself
08. Rich N Famous
09. Destiny
10. Karma
11. Let It Go
Il primo singolo estratto dal nuovo disco è il brano dal titolo "Shots" di cui è stato estratto il video:
La band sarà in tour negli States con Slash e The Winery Dogs, per promuovere il disco.