Il brano segue la scia del successo di "Freight Train" che ha avuto un forte airplay e tutt'ora si fa valere negli Stati Uniti, Australia, Nuova Zelanda, Romania in particolar modo, ed è stato prodotto da Glen Robinson, conosciuto per i suoi lavori al fianco di George Martin (lo storico produttore dei BEATLES) e Keith Richards, oltre che con band quali DEEP PURPLE, IGGY POP, RAMONES, VOIVOD, METAL CHURCH, NASHVILLE PUSSY, ANNIHILATOR, QUEENSRŸCHE, U2, HUMBLE PIE, GWAR, ecc.
Ascolta "A Little Bitty Drunk" qui: ITUNES  SPOTIFY
Chris Catena commenta:
È una grande soddisfazione e un traguardo importante per me poter collaborare con un Mostro Sacro del Rock quale Ron Nevison. Ron Nevison è un producer che ha fatto storia. Ho consumato alcuni dischi prodotti da lui quali 'Quadrophenia' degli Who, "Lights out" degli Ufo, 'Nightlife' dei Thin Lizzy, 'Physical Graffiti' dei Led Zeppelin, 'Crazy Nights' dei Kiss o 'Out of this world' degli Europe, tutti parte della mia collezione. Naturalmente lui ha voluto ascoltare prima il brano su cui lavorare ed è stato bello ricevere il via libera da parte sua con annessi complimenti
"A Little Bitty Drunk" è un brano inedito, interamente scritto da Christian Francesconi Catena (aka Chris Catena) e non incluso nell'album "Truth in Unity", uscito nel 2020 su Grooveyard Records. "Little Bitty Drunk" è stato mixato dal grandissimo RON NEVISON (THE WHO, LED ZEPPELIN, KISS, MEAT LOAF, EUROPE, THIN LIZZY, UFO, HEART, JEFFERSON STARSHIP, DAMN YANKEES, MSG, ecc.) e masterizzato da Matthew Thomson, mentre in pre-produzione è stato assemblato ed editato da Davide Spurio, produttore esecutivo.
Lo stile di "A Little Bitty Drunk" è un hard rock dal retrogusto country per il quale Chris ha messo insieme una linea-up con ALEX GIULIANI alla batteria, JANNE STARK, alla chitarra solista, ALEXANDRA MAIOLO alla chitarra ritmica, MARCO FIORMONTI al basso, MARCO BARTOCCIONI alla slide e chitarra ritmica, SARA FACCIOLO ai cori e chitarra acustica, VALENTINA DE IULIIS alle tastiere e VERONICA INTORCIA ai cori.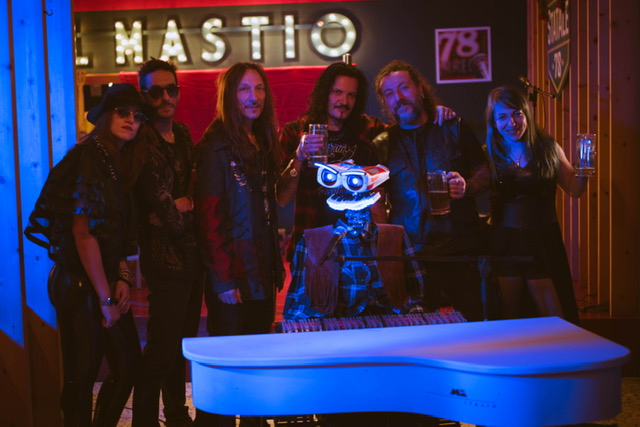 Musicisti presenti sul video: GIULIANA RUSSO alle chitarre al posto di Alexandra Maiolo.
Star actor del video: JOHN CHIACCHIERA (Joe the Truck Driver) e GIULIA FERILLI (Baby Jean)
Il videoclip, cui partecipa come special guest TEOTRONICO, il robot pianista/cantante progettato da TeoTronico da Matteo Suzzi per TeoTronica company, è stato girato presso il Birrificio IL MASTIO e Ristorante/Birreria Statale 78 a Colmurano (MC) e vede Chris avvalersi come sempre del prezioso e professionale apporto di Jack Lucas Laugeni con l'ausilio di Elio Mercanti e Susanna Freddo.
Gli outfit per il video sono stati forniti dalla stilista MARTA JANE ALESIANI.
Segui Chris Catena sulle sue pagine ufficiali:
https://www.facebook.com/ccalien
https://www.instagram.com/chriscatena8
https://chriscatena.bandcamp.com/