In arrivo anche un nuovissimo EP di 6 canzoni intitolato "Land of the Endless Sun" prodotto da Bruce Witkin e una raccolta di pezzi dal vivo registrata durante il tour del 2022.
"Live from Marseille" è un album dal vivo che contiene le esibizioni dei classici della band e alcuni nuovi brani del 2022-2023.
Registrare il nostro nuovo EP "Land of the Endless Sun" mi ha riportato ai nostri primi giorni nei Cruzados. I suoni di chitarra che abbiamo ottenuto grazie a Loren Molinare e Mark Tremalgia sono duri come chiodi e hanno dato l'impronta a tutto l'EP. Ron Young canta ancora più forte, il tutto completato dalla batteria di Rob Klonel
Tony Marsico (basso)
E' stato divertente registrare queste canzoni. Mettono in risalto tutte le influenze della band. Lavorare di nuovo con il nostro produttore preferito, Bruce Witkin, è stato un vero spasso perché ci mette a nostro agio durante tutto la fase di registrazione e riesce ad ottenere grandi performance da ognuno di noi.
Ron Young (voce)
Il disco dei Cruzados del 2022 "She's Automatic" contiene 11 canzoni scritte da Tony Marsico, il bassista e fondatore dei Cruzados e membro dei pink rocker Plugz.
CRUZADOS 2023 European Tour
27/04/2023 Verviers-Belgium @ Spirit Of 66
28/04/2023 Besançon- France @ Bar De L'U
29/04/2023 Dortmund-Germany @ Blue Notez
01/05/2023 Girona-Spain @ Sala la Torrentera
03/05/2023 Madrid-Spain @ Rockville
04/05/2023 Zaragoza-Spain @ Rock & Blues
05/05/2023 Aviles-Spain @ Sala Malecón
06/05/2023 Cangas-Spain @ Salason
07/05/2023 A Coruña-Spain @ Mardi Gras
08/05/2023 Leon-Spain @ Babylon
11/05/2023 Orihuela-Spain @ La Gramola
12/05/2023 Castellon de la Plana-Spain @ Sala Because
13/05/2023 Barcelona-Spain @ La Textil
14/05/2023 Vitoria-Spain @ Urban Rock Concept
16/05/2023 Marseille-France @ Cherrydon
17/05/2023 Chambéry-France @ Brin De Zinc
19/05/2023 Kufstein-Austria @ Fufa
20/05/2023 Lauchhammer-Germany @ Real Music Club
22/05/2023 Norderstedt-Germany @ MusicStar
23/05/2023 Bremen-Germany @ Meisenfrei
26/05/2023 Krefeld-Germany @ Kulturrampe
27/05/2023 Fürth-Germany @ New Orleans Fest (Open Air)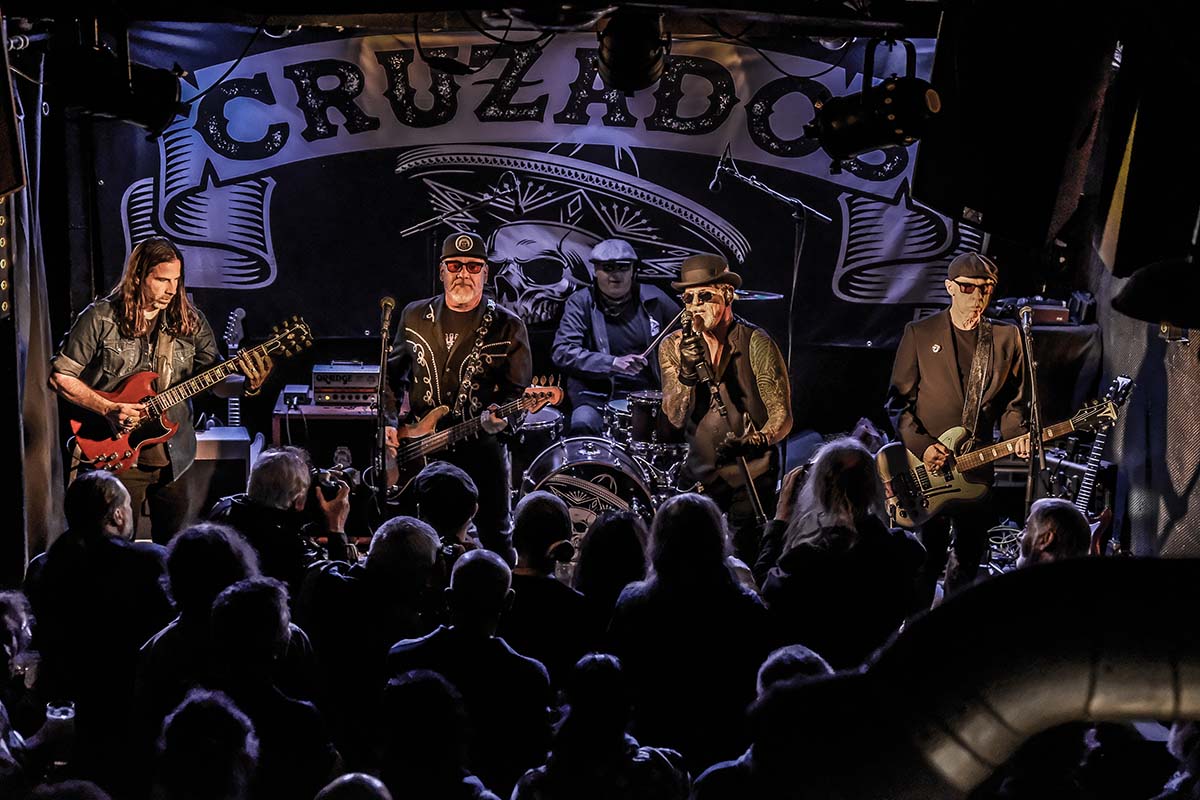 Track listing
1- Dead Inside
2- Land Of The Endless Sun
3- Golden Child
4- A Little More Time
5- Queen Of The Quake
6- Johnny Pay To Play
Recorded at Unison Studios Feb 18-22, 2023
Produced, Engineered and Mixed by Bruce Witkin
All songs written by Marsico, Klonel, Molinare, Tremalgia, Young
Additional Keyboards- Bruce Witkin
Mastered by Dave Schultz at D2 Mastering
CRUZADOS
Ron Young: Lead Vocals
Tony Marsico: Bass, Vocals
Rob Klonel: Drums
Mark Tremalgia: Guitar, Vocals
Loren Molinare: Guitar, Vocals
https://thecruzados.net/
https://www.facebook.com/profile.php?id=100063778691570
https://www.bandsintown.com/a/95120-cruzados
https://instagram.com/thecruzados
https://youtube.com/@cruzadosbandofficial1057