I Down 'n' Outz annunciano l'uscita del live album dal titolo "The Further Live Adventures Of …" per il prossimo dicembre via Frontiers Music Srl.
Registrato durante un concverto al Sheffield Corporation nel dicembre del 2014, sarà disponibile in formato 2CD/DVD, Blu-ray, vinile e digitale. Nello stesso periodo verranno ristampati gli album realizzati dalla band: "My Re-Generation" e "The Further Adventures Of …".
I Down 'N' Outz sono un progetto del frontmand dei Def Leppard Joe Elliott e che vede coinvolti membri di Quireboys, Wayward Sons e Vixen. La band tributa i leggendari Mott The Hoople.
Questa formazione:
Joe Elliott (Vocals/Guitar/Keyboards)
Paul Guerin (Guitar)
Guy Griffin (Guitar)
Keith Weir (keyboards)
Phil Martini (Wayward Sons)
Share Ross (Vixen)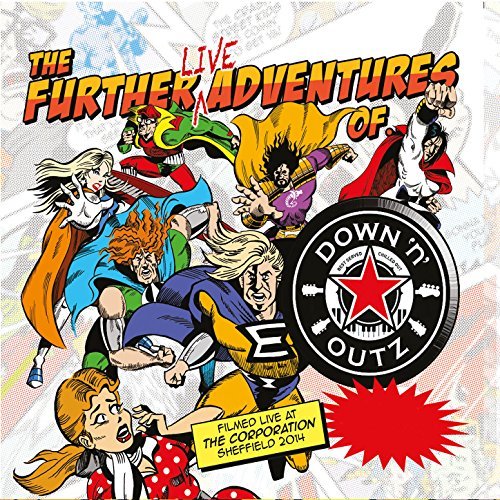 "The Further Live Adventures Of…" (2CD + DVD)
CD1
1. Funeral For A Friend / Love Lies Bleeding
2. One More Chance To Run
3. Rock And Roll Queen
4. Drivin' Sister
5. Whizz Kid
6. Storm
7. Overnight Angels
8. One Of The Boys
9. Shouting And Pointing
CD2
1. Sea Diver
2. The Journey
3. Who Do You Love
4. Crash Street Kidds
5. Violence
6. England Rocks
7. Good Times
DVD
1. Funeral For A Friend / Love Lies Bleeding
2. One More Chance To Run
3. Rock And Roll Queen
4. Drivin' Sister
5. Whizz Kid
6. Storm
7. Overnight Angels
8. One Of The Boys
9. Shouting And Pointing
10. Sea Diver
11. The Journey
12. Who Do You Love
13. Crash Street Kidds
14. Violence
15. England Rocks
16. Good Times
"My Re-Generation"
1. Golden Opportunity
2. Storm
3. Overnight Angels
4. Career (No Such Thing As Rock 'N Roll)
5. England Rocks
6. Shouting And Pointing
7. By Tonight
8. Apologies
9. Who Do You Love
10. One More Chance To Win
11. 3000 Miles From Here
12. Good Times
13. The Flip Side Of The Shameless Whelk
14. By Tonight (Midnight Mix)
15. Funeral For A Friend / Love Lies Bleeding (Live)
"The Further Adventures Of…"
1. Rock and Roll Queen
2. Stiff Upper Lip
3. Marionette
4. One Of The Boys
5. Whizz Kid
6. Violence
7. The Journey
8. Drivin' Sister
9. The Original Mixed-Up Kid
10. Crash Street Kidds
11. Broadside Outcasts
12. The Revenge Of The Shipwrecked Hedgehog
13. Sea Diver (Bonus Track)
14. One Of The Boys (Radio Edit)
Pre-order
http://radi.al/DownNOutzFurtherLive
http://radi.al/DownNOutzAdventures
http://radi.al/DownNOutzMyRegen
• Website: http://downnoutz.net/ • Facebook: https://www.facebook.com/DownNOutz
• Twitter: https://twitter.com/DownNOutz