I leggendari glamster svedesi EASY ACTION torneranno con un nuovo video e singolo del brano al titolo "Drop The Bomb"  il prossimo 27 luglio!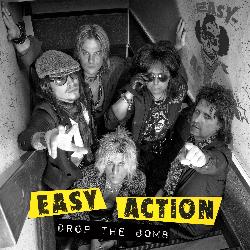 Questa primavera la band festeggerà il 10° anniversario della reunion show del 2006 allo Sweden Rock Festival, il frontman ZINNY ZAN (Shotgun Messiah, Zan Clan) e il chitarrista KEE MARCELLO (Europe, K2) torneranno a suonare insieme dopo 20 anni.
Questo il commento di Zinny Zan:
…but with the new members SIMON ROXX (Ammotrack, Volume Unit), BJÖRN "Grizzly" HÖGLUND (The Summit, Martina Edoff) and MICHAEL GRIMM (Supergroupies) we had so much fun, and sounded so good …  that we decided to have a go at it.
We wanted to close the book by at least releasing something from the would be album. If not for all the people who asked about the band .. then for Michael. Though I am sure that many of the songs we wrote will surface some way or another pretty soon.
Ribatte Björn "Grizzly" Höglund:
That's when we lost Michael due to complications with his diabetes, and… well that's where we left it. The album is still on the shelves. I started going through the footage and the energy of that show just hit me! We had something special in that line-up. Seeing Michael on that stage playing with his childhood favorite band, and all the fun we had, was moving to say the least .. But there was almost no audio recorded at the Sweden Rock show, so we decided do go back to the album we never finished. The song "Drop The Bomb" was close enough to completion so we decided to use that."
Band: www.easyaction.se
Facebook: www.facebook.com/easyactionsweden
[mom_video type="youtube" id="XCMxu69r–o"]