In un contesto familiare composto da un padre rockstar (Don Everly, degli Everly Brothers) e da una sorella modella/attrice (Erin, balzata agli onori della cronaca per la sua tormentata storia d'amore con Axl Rose), il piccolo di casa, cerca di portare avanti il mestiere paterno.
Così, mentre le stazioni radio trasmettevano fino alla nausea "Sweet Child O' Mine" e una manciata di nuovi gruppi provenienti da Seattle, Edan firma per la Hollywood Records e pubblica l'album dal titolo "Dead Flowers".
Per chi era troppo giovane, o per chi era troppo preso dalle nuove frontiere musicali provenienti dallo stato di Washington, bisogna descrivere "Dead Flowers" come un disco che scorre via liscio come un tappeto da bigliardo, senza grandi impennate, ma neanche senza grossi tonfi.
L'eccessiva lunghezza del lavoro però, mette in evidenza alcune lacune creative della band, ma a parte qualche riempitivo, il disco risulta piacevole con i suo rock figlio degli anni 70.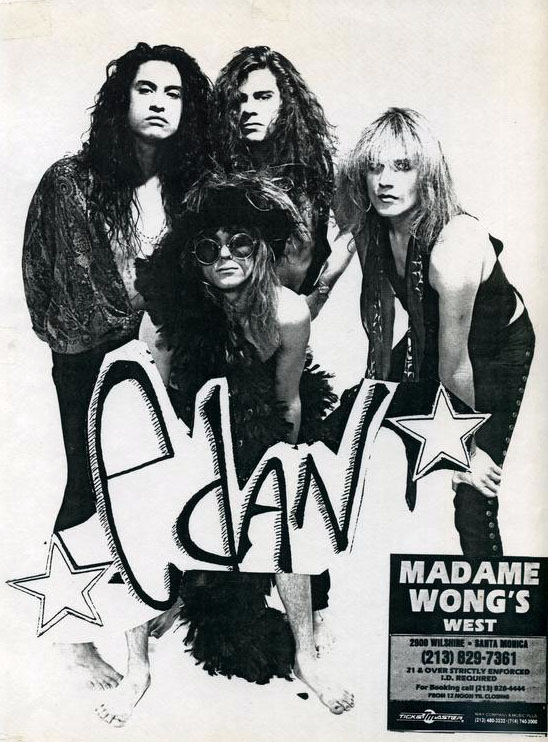 "Let Me into Your Heart", la traccia che apre l'album, è la mia preferita: rock e soul vanno mano nella mano, un po' come se Jon Bon Jovi prendesse il posto di Chris Robinson durante le prime sessioni dei dischi dei Black Crowes.
Le influenze flower power del quintetto californiano non disdegnano l'utilizzo dell'hammond e arrangiamenti più ricercati, consegnandoci una prima parte del disco decisamente buona che vede "Faith Healer", la title-track e "Are You Ready" tra gli episodi meglio riusciti.
Da qui in poi iniziano ad evidenziarsi le lacune di cui sopra, dove si salvano l'orchestrale "Lovesick", il lento dal sapore country "Shot Of Your Love" e lo scatenato rock and roll di "Song About Drinking (The D.T. Blues)".
Non ho idea di cosa sia successo al gruppo dopo il flop del disco, ma cercando sul web ho scoperto che Edan è tornato con un paio di album solisti tra il 2006 e il 2011 che si possono ascoltare tranquillamente su Spotify.
Hollywood Records 1992