Qualche milione di copie alle spalle, gode da sempre il favore dei chitarristi per il talento e seguito particolarmente anche dal pubblico femminile dato il look da biondo rocker dannato. Kenny è da sempre un artista magnetico con un sound da route 66 ed una immagine da Fender a tracollo e Marshall nel bagagliaio.
The Traveler ha uno spunto ben definito che riprende molto il suo viaggio musicale nel noto side project The RIDES, assieme ai leggendari Stephen Stills and Barry Goldberg. Album di matrice più rock senza dimenticare riferimenti fondamentali nella cultura di quella che normalmente viene chiamata 'Americana', in questo caso con due rifacimenti molto sperimentati dal vivo, omaggio a Joe Walsh (Turn To Stone) e ai Buffalo Springfields (Mr Soul).
Come Kenny sia oramai di per sé una leggenda della scena a stelle e strisce, il suo brano "Blue On Black" è divenuto una cover registrata dai FIVE FINGER DEATH PUNCH in collaborazione con Brian May dei QUEEN, Brantley Gilbert, in questi giorni ancora al top delle classifiche rock di tutte le radio e streaming services.
Non perdetelo dal vivo in Italia: kennywayneshepherd.net/tour
07 Luglio – Chiari Blues Festival, Chiari, ITALY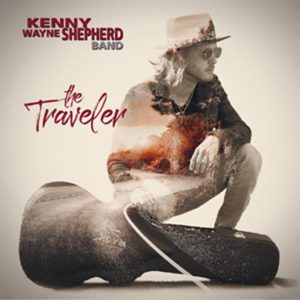 1. Woman Like You
2. Long Time Running
3. I Want You
4. Tailwind
5. Gravity
6. We All Alright
7. Take It On Home
8. Mr. Soul
9. Better With Time
10. Turn To Stone
Online
https://www.kennywayneshepherd.net/
https://www.facebook.com/kennywayneshepherd
https://www.youtube.com/user/KennyWShepherd
https://twitter.com/kwshepherd
https://instagram.com/kennywayneshepherd