Tornano le Femme Fatale con il loro secondo album, "One More For The Road" per la FnA Records.
Registrato originariamento tra 1989/90 con i membri originali, vede la luce solo ora grazie all'etichetta americana, di seguito artwork e tracklisting: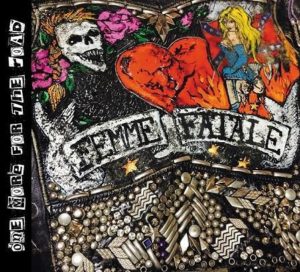 01 Don't Mean Nothing
02 Lady In Waiting
03 I Know
04 One More for the Road
05 Buried Alive
06 The Alley
07 Fallen Child
08 Til It's Shot
09 Ain't Nothing Better
10 Another Piece of My Heart
11 I'm Back
12 Sacred Bible
13 Stiffed
14 Lost Generation
In 1988 Hair Band "Femme Fatale" made some big noise on radio and MTV with 2 very popular songs and videos – "Waiting For The Big One" & "Fallin' In and Out of Love" from their first release on MCA Records. There was a U.S. tour with Cheap Trick & dates in the U.K. and heavy rotation for the videos.
MCA was ready for a second release from the band & had them writing with outside writers & rehearsing once they got back from the tour.
"Yeah, it was all really exciting to think we were going to get back in the studio since we had really cut our teeth out on the road" says Lorraine Lewis – singer & songwriter for the band. "I was having writing sessions with some really great L.A. songwriters like Wes Arkeen (considered the 6th member of Guns & Roses who co-wrote "It's So Easy" with Duff McKagen) and Jack Conrad (Heart, John Waite).
There were big plans for this "baby band" & an industry "buzz" had been established primarily from Femme Fatale's popular videos and their live shows.
"When we thought we had written a good number of songs we liked, we booked some time at a rehearsal studio in the valley to record our demos for the label," says Lewis. "The boys had been working hard on arrangements & I was busy spending my time hanging out with Sunset Strip bands like D' Molls & Poison, and Rock City Angels. We asked our friend Toby Wright, also from Albuquerque to come down to help with the recording." Toby was the engineer for "heavy hitters"- Ron Nevison (Heart) & Mike Clink (G n' R).
The result of this studio time was a bunch of rough demos that the band was going to present to MCA records, to show them where Femme Fatale was heading. With a changing musical landscape and new record personnel, the band was ultimately dropped from the label. Move twenty-five years forward and those demos were still closely guarded by Lorraine, stored away in between the pages of To Kill A Mockingbird. Femme Fatale fans have always been screaming for a second FF album, and the time has finally come.
Lorraine Lewis states, "Thanks to F n A Records, this long time lost gem is finally seeing the light of day! These recordings are raw, rough, and have a live feel to them. They have been mastered by FnA Records and it is important to note that even though the quality is not perfect, these recordings were made over a quarter of a century ago with the original members of Femme Fatale!"
One More For The Road, contains 14 blistering tracks with obvious Femme Fatale hits like "Lady In Waiting", "Don't Mean Nothin'" and "Til It's Shot" and the power ballad "Buried Alive". Additionally, we hear Lorraine Lewis' voice on her mesmerizing version of Janis Joplin's "Piece Of My Heart."
It's been a quarter of a century coming and its finally here for the fans to embrace; a true gem recorded back in the day; Hear what you have been missing… One More For The Road.
www.facebook.com/ILoveFemmeFatale
[mom_video type="youtube" id="F7TTsrGrrow"]