Dopo il grande successo dell'edizione invernale dello scorso Gennaio 2017 dove i protagonisti furono gli americani Warrior Soul abbiamo deciso di portare un'altra grande band sul palco dello Stony Pub dove si svolgerà l'edizione estiva 2017, stiamo parlando dei NOW OR NEVER band franco-danese fondata da ex-membri di Pretty Maids e Nightmare e che si esibiranno per la prima volta in Italia in esclusiva per noi!
Con loro sul palco si esibiranno ben 6 band tra cui i padroni di casa JUNKIE DILDOZ che presenteranno in esclusiva il loro nuovo singolo 'Bastards' che sarà pubblicato esclusivamente su 7" pollici a tiratura limitata, i DAMN FREAKS, il nuovo side project di Jacopo "Jack" Meille, cantante dei Tygers of Pan Tang, Mantra e General Stratocuster and The Marshals, che debutteranno dal vivo presentando in esclusiva nazionale il loro album omonimo di debutto e i gli inossidabili RUNOVER con una setlist che alternerà brani dal loro ottimo debutto 'Feel The Anger' ad alcune primizie del nuovo album.
Il festival è rigorosamente a INGRESSO GRATUITO, con la presenza dell'ormai classico "ROCK MARKET"  la possibilità di bere ottime birre, mangiare e scatenarsi nelle danze più frenetiche con i Dj set a cura di Maniac di HardnHeavy Nites e Dj Vendetta.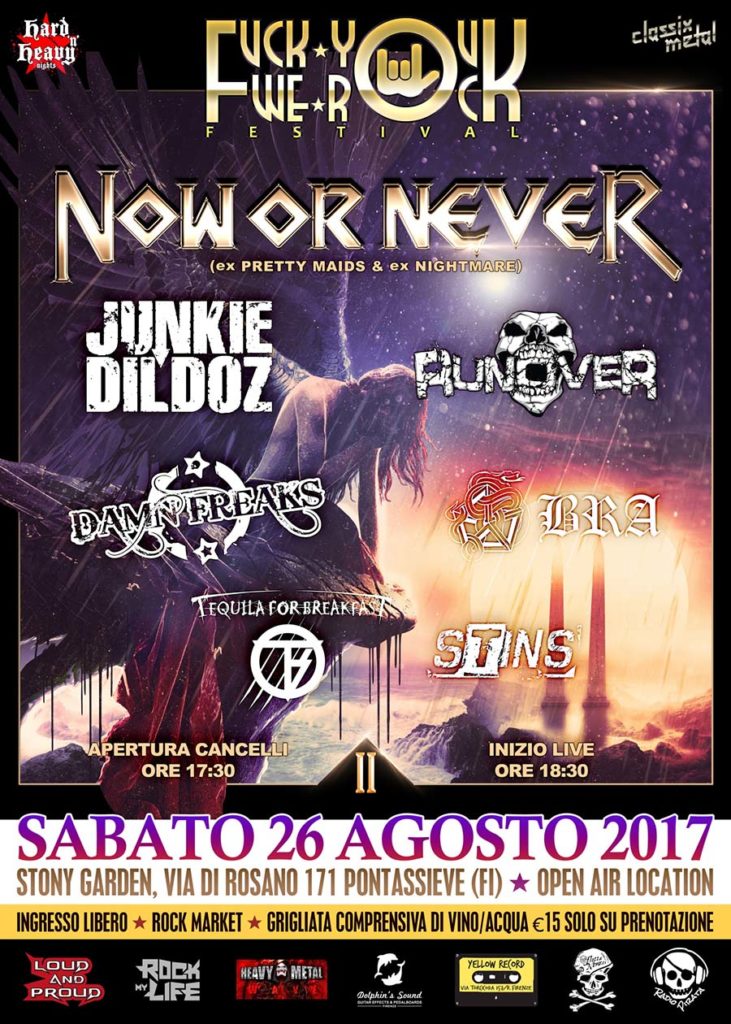 LINK A EVENTO FACEBOOK UFFICIALE: https://www.facebook.com/events/2038190133075375/
Official Media Partners:
Rock My Life webzine: https://www.facebook.com/rockmylifeitalia/
Radio Pirata – programma in onda su ormeradio.it: Radio Pirata su Orme Radio
Heavymetalwave – radio show: http://heavymetalwave.blogspot.com/
Hard 'n' Heavy Nights – Extreme Djs: Hard 'n' Heavy Nights
Italia di metallo – webzine: http://www.italiadimetallo.it/
Loud And Proud Italy:https://www.facebook.com/loudandprouditaly/
Rock Market a cura di:
Dolphin's Sound – effetti custom per chitarra/basso & pedalboards: https://www.facebook.com/pages/Dolphins-Sound/128091073969514
Yellow Records – Il miglior negozio di dischi di Firenze: https://www.facebook.com/yellowrecordfirenze/
Red Light Rock Shop – Firenze: http://www.redlightrockshop.com/
The Stony Pub, Via Di Rosano 171, 50065 Pontassieve (Firenze)
INFO: 055/698191
https://www.facebook.com/stonypub
INGRESSO LIBERO – apertura cancelli ore 17.30 – inizio concerti ore 18.30
SU PRENOTAZIONE GRIGLIATA COMPRENSIVA DI ACQUA E VINO A € 15.00!
Info gruppi:
NOW OR NEVER (hard rock – Denmark/France)
https://www.facebook.com/onlynowornever
SHOW ESCLUSIVO PRIMA VOLTA ASSOLUTA IN ITALIA!
Fondati dagli ex-Pretty Maids Ricky Marx e l' ex-Nightmare Jo Amore i NOW OR NEVER si sono immediatamente posizionati come potentissima realtà nel panorama hard'n'heavy europeo, non a caso i primi due album sono stati pubblicati da Mighty Music (Tygers Of Pan Tang, Mike Tramp, Chris Holmes…), in attesa della pubblicazione del terzo disco e di un conseguente full European tour la band si presenta per la prima volta in assoluto su un palco italiano!
JUNKIE DILDOZ (street metal bastards – Firenze)
https://www.facebook.com/JunkieDildoz
I più noti delinquenti street rockers di Firenze, veloci, irriverenti, rumorosi e sempre provocatori, dopo aver accompagnato gli svedesi ToxicRose nelle tappe italiane del loro Total Tranquility Tour e aperto per miti come Whitesnake, Tygers Of Pan Tang e Warrior Soul, Hardcore Superstar e Reckless Love la band ancora una volta vi travolgerà con il suo letale mix di sleaze, punk e hard rock in attesa dell'uscita del nuovo 45 giri in edizione limitata 'Bastard'.
RUNOVER (heavy metal – Firenze)
https://www.facebook.com/runoverweb/
Non si apre per sbaglio a gruppi come Black Label Society, Sepultura, Anthrax, Testament, Soulfly o Dimmu Borgir se non si è dei veri e propi schiacciasassi sul palco…ecco i Runover offriranno come sempre uno show potentissimo e molto, molto heavy al limite del thrash, il gruppo presenterà sul palco anche alcuni brani che andranno a inserirsi sul successore del loro debut album 'Feel The Anger', imperdibili!
DAMN FREAKS (glam/hard rock – Firenze )
https://www.facebook.com/DamnFreaks/
SHOW ESCLUSIVO: DEBUTTO LIVE PER IL NUOVO SIDE-PROJECT DI JACK MEILLE DEI TYGERS OF PAN TANG!
Il mai troppo impegnato leader dei Tygers Of Pan Tang Jack Meille avendo da tempo nostalgia per le sonorità dei gruppi storici del movimento glam/hair metal americano degli anni '80 ha deciso di imbarcarsi in una nuova eccitante avventura, nascono così i Damn Freaks super-band che presenterà il debut album uscito per l'etichetta danese Mighty Music! In esclusiva per il Fuck You We Rock Festival saranno disponibili le copie fisiche del CD in anteprima sulla distribuzione europea dell'album!
EVENDIM (folk metal – Firenze)
https://www.facebook.com/evendimband/
Band folk-metal con una notevole esperienza di palco, gli Evendim sapranno farvi divertire e perfino ballare! Canzoni che parlano di bevute in compagnia, battaglie e amori perduti, I ragazzi ci presenteranno anche alcuni brani che saranno presto pubblicati sul loro nuovo album !
TEQUILA FOR BREAKFAST (hard rock – Arezzo)
https://www.facebook.com/tequilaforbreakfastofficial/
Le canzoni dei Tequila For Breakfast sono caratterizzate da uno stile hard rock molto diretto, contornato da una sensibile e presente nota punk, stile che viene riproposto anche nell'atteggiamento durante i live, non a caso la band collabora da tempo con un certo Ciccio Li Causi attuale membro dei LITFIBA…
THE STINS (hard'n'heavy – Firenze)
https://www.facebook.com/STINSBAND/
Giovanissima e promettente band fiorentina che saprà incendiare il palco con il loro adrenalitico set live!
The Stony Pub, Via Di Rosano 171, 50065 Pontassieve (Firenze)
INFO: 055/698191
https://www.facebook.com/stonypub
INGRESSO LIBERO – apertura cancelli ore 17.30 – inizio concerti ore 18.30