"Worlds apart" e' il suo quinto album strumentale, successore di "Fantasia" (SG records 2014).
Il disco e' distribuito tramite LANDR esclusivamente per il mercato digitale (Spotify, iTunes, Apple Music, Google Play, Amazon music, Deezer, Tidal e molti altri), ma è comunque disponibile un CD artwork ufficiale in formato PDF per chi, dopo l'acquisto digitale, volesse stamparne una copia fisica per la propria collezione privata al seguente link:SCARICA
L'album comprende 9 brani in stile heavy progressive guitar oriented, 3 brani orchestrali e una live performance violinistica.
Nella lineup della parte heavy prog dell'album troviamo alle batterie Simon Ciccotti (Ex DE LA MUERTE, drummer per il RUSSEL ALLEN's Metal For Autism Tour 2017, TURBOLENCE, PAREIDOLIA).
Il resto degli strumenti e' stato registrato da Daniele.
In tre brani hanno duettato con Daniele interessanti e promettenti esponenti della nuova generazione chitarristica:
Alberto Barsi (BACKFIRE, Vincitore del concorso Guitar X-Perience 2019, categoria compositori, con il brano "The Showdown"; con già all'attivo un album solista intitolato "A Matter Of Priority").
Edoardo Taddei (AETERNUM, METALLARI ANIMATI, Vincitore del concorso Guitar X-Perience 2018, categoria interpreti, con il brano "Perpetual Burn" di Jason Becker).
Jordan Steele (Chitarrista di origine statunitense (Alabama) con gia' all'attivo numerose collaborazioni).
Nella parte orchestrale dell'album troviamo la Sinfonia n.1 in RE minore Op.7 "A Walk With the Giants", composta da Daniele a partire dal 2014, suddivisa in tre movimenti.
Alla registrazione di questa sinfonia hanno partecipato rinomati solisti orchestrali provenienti da tutto il mondo:
Andrew Steffen (violino e viola) (Iowa/USA)
Andrew Stern (Violoncello) (Wisconsin/USA)
John Hall (Contrabbasso) (Georgia/USA)
Christy Kim (Flauto) (California/USA)
Lauren Urban (Oboe, corno inglese) (Inghilterra)
Liam Kinson (Clarinetto, clarinetto basso) (Australia)
Eric Heidbreder (Fagotto) (Illinois/USA)
Robert Franken (Controfagotto) (California/USA)
Cameron Lee Keenan (Controfagotto) (Indiana/USA)
Marc Papeghin (Corno e tromba) (Francia)
Nell'album è presente inoltre una registrazione live del capriccio n.16 Op.14 per violino intitolato "The love rose" eseguito di recente a Bebrene, Lettonia, dalla violinista Karlīna Īvāne.
Tale capriccio fa parte della collezione di 30 capricci per violino intitolata "Rainbow Petals" composta da Daniele nel 2017.
La track list definitiva dell'album: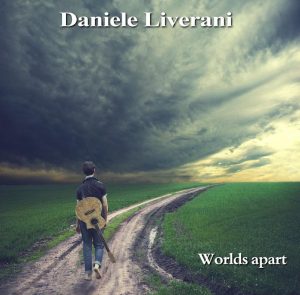 1-The Race Is On
2-Keep Your Distance
3-Perfect Evening
4-A Kingdom Without Thorns (Primo movimento della sinfonia n.1 in RE minore Op.7)
5-Scratchy
6-Open Sesame (Include un drum solo di Simon Ciccotti)
7-Abnormal (In duo con Alberto Barsi)
8-Magic Encounters (Secondo movimento della sinfonia n.1 in RE minore Op.7)
9-Comfortably
10-Meatball Struggle (In duo con Jordan Steele)
11-Everything Ends (In duo con Edoardo Taddei)
12-The Love Rose (Eseguito da karlīna īvāne / Registrazione live)
13-A Walk With the Giants (Terzo movimento della sinfonia n.1 in RE minore Op.7)
"Worlds apart" negli stores digitali:
https://open.spotify.com/album/6W0F0f85gfpmGXmWbiHc8q
music.apple.com/it/album/worlds-apart/1482960843
www.amazon.it/Worlds-Apart-Daniele-Liverani/dp/B07YY4RJDT
play.google.com
www.deezer.com
www.tidal.com
Links vari:
www.danieleliverani.com
www.facebook.com/Liverani.Guitar.Music.Page/
www.facebook.com/Liverani.Orchestral.Music.Page
www.youtube.com/dliverani