Iggy, è un rocker bolognese non esattamente di primo pelo (i maligni dicono abbia addirittura una quarantina d"anni, che ovviamente non dimostra, che diamine, siamo rocker o caporali?), che ha saputo pazientemente costruirsi una reputazione con le classiche armi del mestiere: concerti, sudore, attitudine, alcool e sigarette. Al momento sono disponibili un paio di demo CD che, pur con tutti i limiti di un"autoproduzione, che non rende giustizia alle sue reali capacità, servono a farsi un"idea della caratura del personaggio.
Il primo è 'That's My Kind Of Life', che contiene undici brani acustici le cui radici affondano nei Dogs d"Amour di 'A Graveyard Of Empty Bottles', nel Tyla solista di 'The Life And Times Of A Ballad Monger' e nei Rolling Stones d"annata, ma anche in certe ballad di Johnny Cash e nel roots rock americano. Le mie highlights sono l"iniziale 'Let Me Drink', la title-track, 'Just Another Day', 'Nothing Under My Hat' e la conclusiva e bluesy 'Wait For A Better Day'. Forse alla lunga cala un po" la tensione ma rimane comunque un esordio piacevole ed accattivante, che convince pur non facendo gridare al miracolo.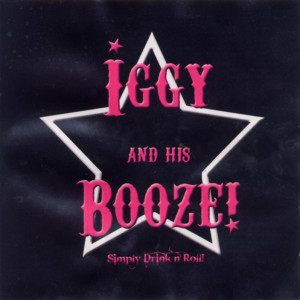 Il secondo CD, l"elettrico 'Simply Drink'n'Roll', propone cinque ottime canzoni ispirate ai maestri del genere, su tutte 'The Savior', puro blues"n"roll, strapazzato alla maniera dei Rock City Angels di 'Young Man's Blues', 'Life"s Waiting For No One', che sembra uscita da 'Shake Your Moneymaker' dei Black Crowes e 'Please Please Please', che odora di Dogs d"Amour in ogni singola nota. Forse il buon Iggy non ha inventato niente, è sempre e solo del caro vecchio rock"n"roll, quel che è certo è che lo fa maledettamente bene, in modo schietto e genuino, diretto e coinvolgente.
La dimensione live è ovviamente quella più consona ad un personaggio del genere, basta muovere le chiappe ed andare a vederlo, magari in un contesto da pub, fumoso ed alcoolico, per poterlo apprezzare fino in fondo, Iggy sa dar vita ad uno show elettrico ed elettrizzante come pochi, rendendo chiaro a tutti il significato della parola "rocker". Con la chitarra bassa e la voce roca e profonda di chi ha trangugiato ettolitri di alcool e svuotato l"ennesimo pacchetto di sigarette, abbraccia l"audience con un suono caldo, carico ed avvolgente, fatto di blues e rock"n"roll deragliato e puzzolente, sporco e sanguigno, in una parola VERO, che solo chi ce l"ha nel sangue riesce a rendere credibile e trasmettere, provocando non pochi brividi lungo la schiena.
Per quanto mi riguarda questo è IL vero rocker Emiliano e se qualcuno sta pensando a Ligabue fuori dalle palle, che ha sbagliato fanzine… Sorbole!!