I rocker di Los Angeles Black Veil Brides stanno per fare ritorno con il quarto album in studio.
Black Veil Brides verrà pubblicato il 28 ottobre su Spinefarm Records/Universal. Il disco è stato prodotto dal leggendario Bob Rock, conosciuto per avere lavorato su album di enorme successo come il Black Album dei Metallica e Dr. Feelgood dei Mötley Crüe. Il disco contiene alcune delle canzoni più aggressive e varie mai scritte dalla band. L'opener e primo singolo "Heart Of Fire" unisce l'attacco delle due chitarre, sorretto da una terremotante sezione ritmica, con un testo dal messaggio positivo, come è tradizione per il gruppo. I pre-ordini di Black Veil Brides saranno disponibili dal 17 settembre. La copertina è stata disegnata dall'amico e collaboratore di lunga data Richard Villa.
La tracklist di Black Veil Brides è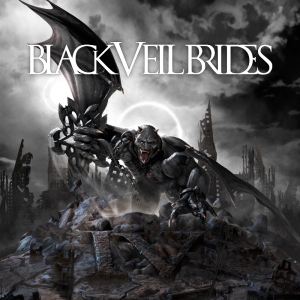 1. Heart Of Fire
2. Faithless
3. Devil In The Mirror
4. Goodbye Agony
5. World Of Sacrifice
6. Last Rites
7. Stolen Omen
8. Walk Away
9. Drag Me To The Grave
10. The Shattered God
11. Crown Of Thorns
I Black Veil Brides hanno continuato ad accrescere la loro fanbase "BVB Army" fin dal primo album We Stitch These Wounds. La loro canzone di debutto "Knives And Pens" ha ottenuto oltre cento milioni di visualizzazioni su YouTube. La band ha anche pubblicato due dischi ben accolti dalla critica come Set The World On Fire e Wretched And Divine: The Story Of The Wild Ones. L'ultimo lavoro ha debuttato al #7 della Billboard 200, vendendo oltre 42.000 copie la prima settimana dall'uscita e si è piazzato al #1 della iTunes Top Album Chart e della iTunes Rock Chart. I Black Veil Brides hanno recentemente vinto un premio per i "Most Dedicated Fans" all'Alternative Press Music Award tenutosi a Cleveland. Questo premio va ad aggiungersi ai numerosi Kerrang awards e a tre Revolver Golden God Awards.
I Black Veil Brides sono Andy Biersack (voce), Jake Pitts (chitarra), Jinxx (chitarra/violino), Ashley Purdy (basso) e Christian "CC" Coma (batteria).