In qualsiasi playlist di rock il pezzo "Lay it on the line" è omnipresente, un classic che portò una band come i Triumph a 18 gold e 9 platinum awards tra Canada e U.S. nei famosi anni 70's & 80's.
La mente e chitarra della storica band ritorna sulle scene con un disco oltre il genere, un altro album di rock americano puro caratterizzato da grandi melodie e da immensi arrangiamenti. Ospiti nel disco, due nomi che potrebbero riassumere il range del genere, James La Brie dei Dream Theater e Alex Lifeson dei Rush.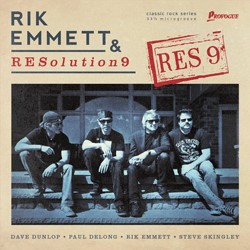 01. Stand Still
02. Human Race (feat. Alex Lifeson)
03. I Sing (feat. James LaBrie)
04. My Cathedral
05. The Ghost of Shadow Town
06. When You Were My Baby
07. Sweet Tooth
08. Heads Up
09. Rest of My Life
10. End of the Line
(feat. Alex Lifeson & James LaBrie)
11. Grand Parade
(feat. Gil Moore & Mike Levine) [bonus track]
"I Sing", featuring James LaBrie on vocals:
For more information, visit www.rikemmett.com and www.mascotlabelgroup.com.