I cult glamster del Sunset Strip WILD BOYZ pubblicheranno tramite la Demon Doll e Metal Legacy Records il loro unico disco dal titolo 'Unleashed!'
Il Cd sarà rimasterizzato e rinnovato nel booklet.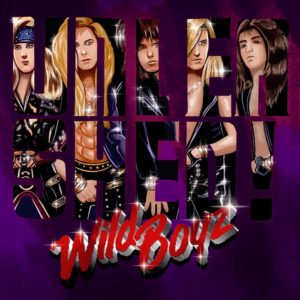 1. Pleazure 'N' Pain
2. I Don't Wanna Cry No More
3. I'm On My Way
4. Forever
5. Take Me
6. Roll The Dice
7. She Don't Care
8. High Tonite
9. In Your Face
10. Cowboy Ride
https://www.youtube.com/watch?v=3IhBmE1bazM
WILD BOYZ BIOGRAPHY
In the summer of 1989, drummer/songwriter K. Lee Lauren and bassist/songwriter Joey Wylde formed the Wild Boyz from the remnants of their previous band, Dorian Gray. Dorian Gray only played a little more than a handful of gigs on the Sunset Strip between 1986 and 1988, but they sold out every performance they played, even 3-headlining gigs held at the famous 1,000-seater Country Club. This was the very same venue where, Sylvester Stallone saw the fight that inspired the motion picture, "Rocky". After a nation-wide talent search and with the addition of vocalist Willie D. and guitarists Valentino and Matt Steavanz, the band was ready to set "The Strip" on fire again. But this band wasn't simply just another band, this band was a master plan. Writing and rehearsing up to 50 hours a week for many, many months straight, and knowing they had something special, Lauren and Wylde set out to give the world what they felt was the most talented, most entertaining, and most hard-working band to ever come out of LA. Within months they were back on top, selling out every club performance they contracted to. This time, the LA Fire Marshall came calling, stating that their attendance was "too big" to be safely held at any of the LA-based clubs. So, they compromised, they would allow the Fire Marshall to segment their audience into 20-minute portions during their 'hour-and-thirty' minute scheduled performance. This worked well, it also enabled them to advertise their attendance records before and after every show. By this time, "The Boyz" had garnered national media attention and plenty of record label attention as well, along with numerous guest appearances from big-time players like Jon Bon Jovi, Janie Lane and members of the "who's who" of practically every A-list musical artist in Hollywood at the time. Using two specified live performances as showcases, they attracted the attention of start-up indie label, Polaris Records, which eventually came with a major distribution deal in several countries. They were on their way – or were they on their way out? Recording their debut release, "Wild Boyz Unleashed!" for under $20,000 in 1990, opting to spend their budget on lensing a video for, "I Don't Wanna Cry No More", in addition to bankrolling a touring package to enable them to perform for and meet their fans, they planned and prepped the, "Unleashed! In Your City" tour, heading out onto the road in late 1991 to support, "Unleashed!" Although the Wild Boyz were very well received on tour, selling out many of their headlining gigs, as well as support shows opening for artists such as Stryper, Britny Fox & Shotgun Messiah, and even though their radio-friendly, "I Don't Wanna Cry No More" was burning up the likes of both AOR and CHR radio, in addition to college radio stations throughout the US, and MTV was airing the video in light rotation, their days were numbered. It was now the summer of 1992 and like a thief in the night, Grunge had been crowned the new King, dominating both National radio and MTV, this new-fangled music style was everything the Wild Boyz were not. Grunge was the new future of music, leaving image-based acts like Wild Boyz to either die a slow death or to fade away gracefully. Fortunately, "The Boyz" chose the latter. Much has been said about the Wild Boyz in the years that have passed, much is wrong. In truth, they were a rare live act, with more energy and showmanship than many a rock legend. "Unleashed!", is 10 songs that were never intended to be taken too seriously, released by a band that took what they did, and how it impacted their audience – very seriously!