La Frontiers Records è lieta di annunciare l'uscita del nuovo album dei Beggars & Thieves intitolato "We Are the Brokenhearted" il prossim 29 novembre in nord America e il 2 dicembre in Europa.
I Beggars & Thieves debuttarono per l'Atlantic Records nel 1990 con il disco omonimo, acclamato dalla critica con il primo singolo che entrò nella top 40 degli album di Billboard Magazine ed inserito in rotazione su oltre 100 stazioni radio in parallelo.
I cambiamenti musicali e l'avvento del grunge, fermarono l'ascesa della band e la Epic Records fermò l'uscita del secondo album "Look What You Create", scritto e prodotto in collaborazione con Jim Vallance (Aerosmith, Bryan Adams, The Scorpions, Cuore, ecc.)
Alla fine degli anni '90, i Beggars & Thieves finalmente pubblicarono "Look What You Create" seguito dal "The Grey Album" nel 1999, per ritornare nel 2004 con il cantante Louie Merlino e il chitarrista Ronnie Mancuso (ora nei Sin City Sinner con Brent Muscat, Lez Warner) e lo show del 2010 al Firefest 2010 di Nottingham.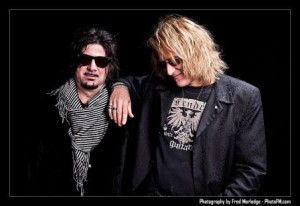 "We Are The Brokenhearted", nelle parole di Merlino: «Abbiamo voluto fare come i Pink Floyd di "Dark Side of the Moon" o gli U2 di "Joshua Tree" ed è stato un impegno enorme. Non sto dicendo che l'abbiamo fatta. Ma questo era il livello di passione e lo sforzo che ci abbiamo messo nella produzione di We Are The Brokenhearted". Penso che le nuove canzoni mostrino il nostro potenziale e siamo entrambi convinti che questo è il miglior lavoro che abbiamo mai fatto. Speriamo solo che la gente ci sia la possibilità e il tempo per ascoltarlo davvero ed assorbire questo come un album concepito per essere ascoltato come un'entità unica, non in modalità casuale come su su un iPod. «We Are The Brokenhearted» dimostra che la grande musica è senza tempo…"
«We Are the Brokenhearted » include: We Come Undone; Oil & Water; Innocence; Never Gonna See You Again; Beautiful Losers; Seven Seconds; Stranded; Wash Away; Midnight Blue; We Are The Brokenhearted.