Il nuovo CD integrale sarà disponibile presso tutti i rivenditori in tutto il mondo e in tutti i negozi digitali a partire dal 4 febbraio su: smarturl.it/Bottomofthebarrel
Il nostro nuovo Cd "Bottom of the Barrel", è una raccolta di pezzi di rock-n-roll grezzo, blues, con un tocco melodico. È passato molto tempo e ne è valsa la pena aspettare!
Così commenta il frontman Pedro Espada, mentre il presidente dalla Dark Star Records Jeffrey A. Swanson aggiunge:
C'è un talento incredibile in questo gruppo di rocker del sud, e il loro nuovo album racconta storie vere d'amore e di vita e i loro show, sono uno spettacolo da non perdere
I Voodoo Moonshine, sono un gruppo hard rock blues proveniente dalla Florida/Georgia, e formato a Memphis nel 2003 dal chitarrista Jeff Losawyer. L'album di debutto, "Decade of Decay" è stato pubblicato nel marzo 2005.
Voodoo Moonshine
Pedro Espada – vocals
Jeff Losawyer – guitar
Hector Acevedo – bass
Eddie Cruise – drums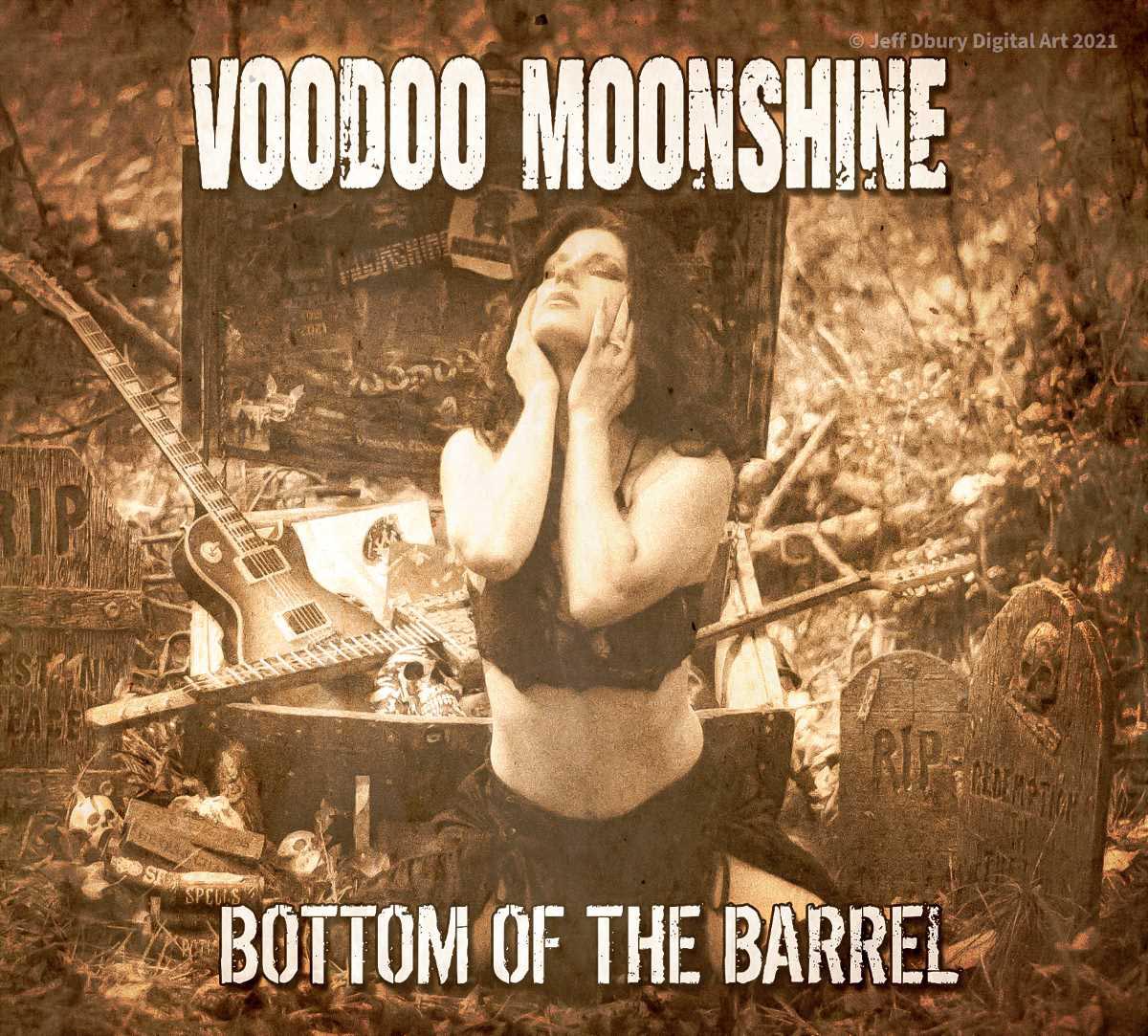 Track Listings e Songwriter
1. LOCKED AND LOADED 3:54 (J. Losawyer, G. Geiger, Lostwater Music BMI)
2. GIVE IT TO ME 3:16 (J. Losawyer, H. Rundell, Lostwater Music BMI)
3. BRING IT DOWN 3:30 (J. Losawyer, P. Espada, Lostwater Music BMI)
4. ROUND AND ROUND 4:06 (J. Losawyer, H. Rundell, Lostwater Music BMI)
5. SOMETIMES YOU JUST WANNA 3:14 (J. Losawyer, Lostwater Music BMI)
6. WHAT A WAY TO GO 5:01 (J. Losawyer, Lostwater Music BMI)
7. SWALLOW MY PRIDE 3:18 (J. Losawyer, Lostwater Music BMI)
8. EDEN IN YOUR EYES 4:30 (J. Losawyer, Lostwater Music BMI)
9. RISE FREE 3:30 (J. Losawyer, P. Espada, Lostwater Music BMI)
10. Y'ALL COME BACK SOON 5:17 (J. Losawyer, G. Geiger, Lostwater Music BMI)
11. EDEN IN YOUR EYES (Acoustic Version) 4:30 (J. Losawyer, Lostwater Music BMI)
Per Maggiori Info vai a:
www.voodoomoonshinerocks.com
www.facebook.com/voodoomoonshine
www.twitter.com/VoodooMnshine
www.instagram.com/voodoomoonshine1/
www.youtube.com/channel/UCG5cONuRLRUzmt_mZe3ynmg