La band inglese dei Voodoo Vegas annuncia l'uscita del loro secondo album.
Intitolato 'Freak Show Candy Floss' uscirà il 4 novembre via PHD, e vede la produzione di Guillermo "Will" Maya (The Answer).
Questo il commento del frontman Lawrence Case:
I believe we've matured as songwriters and musicians, and the new album reflect this, as much as we loved making the first album, last year's EP was a hint of what was to come next, and we knew we had it in us to deliver the best album possible. And thanks to 2 years of touring around the UK and Europe, supporting some killer bands and learning so much from them and about ourselves as musicians and human beings, we've crafted 'Freak Show Candy Floss' and we couldn't be happier with the results.
Di seguiro è possibile ascoltare il brano dal titolo 'Killing Joke':
Continua invece Meryl Hamilton:
It's hard and at times, it's completely crazy, I mean, don't get me wrong, to have the opportunity to do what we do is amazing and we're extremely fortunate. But for anyone that knows what's its like to be in band, working full on, whilst juggerling (see what we did there?) traditional work and personal lives, to people outside this bubble, they think we're mad." "Yep", chimes in Case, "The name 'Freak Show Candy Floss' comes from the idea that people who don't live in this music world can't understand why we travel for hours and hours only to play music for a short amount of time. Some people think we are crazy, insane, maybe even FREAKS! The name Freak Show Candy Floss comes from that, we are crazy, we are insane, we are FREAKS who love writing and playing our music, and the candy floss is the music and gigs we play, it's there, it tastes so sweet, but then it's gone so quick just like candy floss.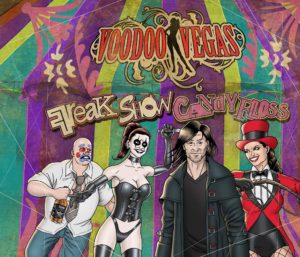 'Freak Show Candy Floss' Tracklist:
1. Backstabber
2. Long Time Gone
3. Resolution
4. Killing Joke
5. Lady Divine
6. Poison
7. Black Heart Woman
8. Sleeping In The Rain
9. I Hear You Scream
10. Walk Away