Il nuovo album "Back On The Road" è stato registrato alla House of Voodoo di Stoccolma durante la pandemia e mixato da Robert Pehrsson. Undici grandi canzoni che spaziano dal rock ad alta energia alle ballate cowboy.
I Glorious Bankrobbers si sono formati a Stoccolma nel 1983 e l'album di debutto è stato pubblicato nel 1984 per la Planet Records, prodotto da Kee Marcello (Easy Action, Europe). Ma Glorious Bankrobbers si sciolsero subito dopo l'uscita a causa di problemi con il loro manager, che vendeva tutti i dischi promozionali nei negozi di seconda mano per pagarsi la birra.
I membri del gruppo hanno suonato in diverse band per un paio d'anni, ma poi hanno riunito nuovamente le forze con la pubblicazione di "Dynamite Sex Dose" nel 1989. Il video della canzone "Dynamite Sex Dose" è stato trasmesso a rotazione su "Headbangers Ball" da MTV.
Alla fine del 1990 il manager americano Rick Shaw portò la band per un tour promozionale di due settimane a New York, dove hanno suonato anche di supporto agli Sweet al The Cat Club e al leggendario CBGB da cui è stato stato tratto l'album dal vivo "Glorious Bankrobbers – Live at CBGB's NYC".
Purtroppo i Glorious Bankrobbers non hanno ottenuto grandi riscontri negli Stati Uniti, il cantante ha lasciato la band per unirsi ai norvegesi Backstreet Girls. Il resto della band si è riformato come Mental Hippie Blood con il nuovo cantante Michael Oran e hanno pubblicato due album.
La band si è riunita di nuovo e nel 2007 con la pubblicazione di "The Glorious Sound of Rock'n'Roll" per la Sweden Metal Records ed è andata in tour con Nazareth, Quireboys e Mustasch, ma nel 2012 muore tragicamente il batterista Oden e ancora una volta la band si scioglie.
Finora!!! I Glorious Bankrobbers tornano con un nuovo album per la Bollmora Rekords e distribuito dalla Sound Pollution. Il 21 aprile "Back On The Road" uscirà in vinile, cd e tutte le piattaforme digitali.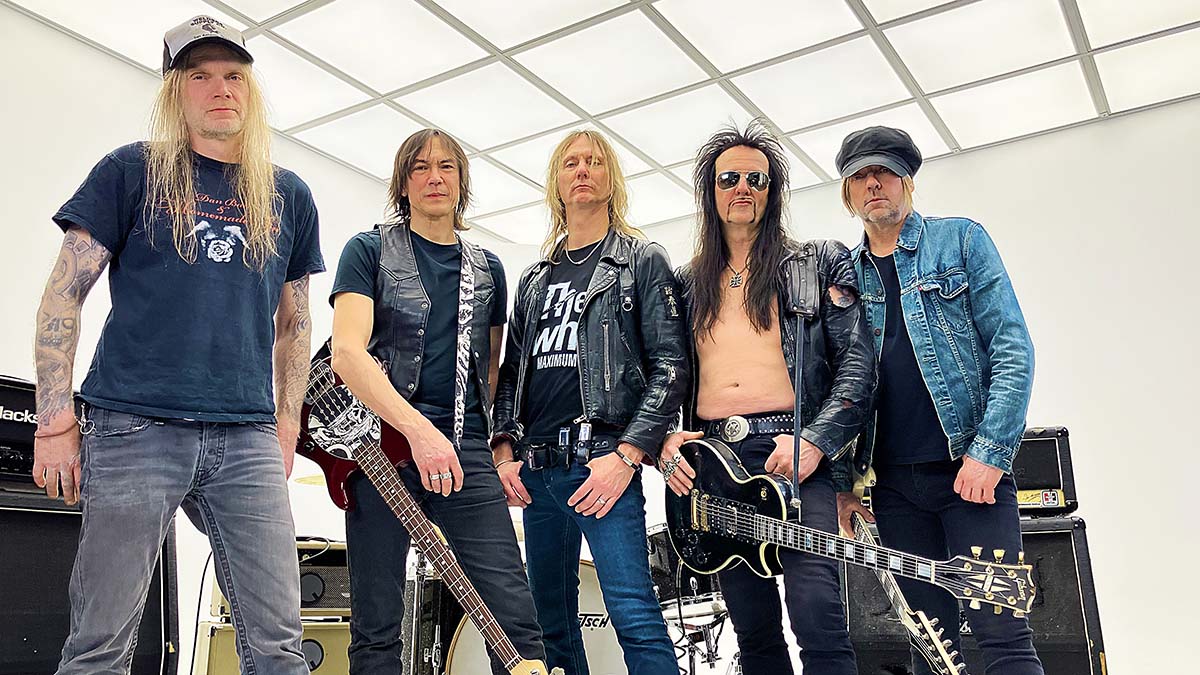 LINE-UP:
Olle Hillborg – Lead Vocals, Harmonica
Jonas Petersson – Lead Guitar, Vocals
Dan Lagerstedt – Lead Guitar, Vocals
Lake – Bass Guitar, Vocals
Bentan – Drums
TRACKLIST:
01. I'm a Drudge
02. Dodge The Bullet
03. Criminal Boogie
04. Gold Fever
05. D.S.T.
06. Up To You
07. Turn On The Music
08. Back On The Road
09. Running Hot
10. House Of Fantasy
11. My America Rocks
WEB: www.gloriousbankrobbers.com
Facebook: https://www.facebook.com/offisialhomepage/
PRE-ORDER: https://www.soundpollution.se/en/?s=GLORIOUS+BANKROBBERS&post_type=product