La Frontiers Records è lieta di annunciare di aver messo sotto contratto i Million $ Reload per la pubblicazione del secondo album dal titolo "A Sinner's Saint" in uscita il 29 giugno in Europa e 2 luglio in Nord America.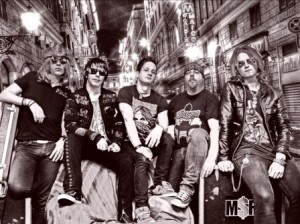 Formati nell'Irlanda del Nord nel 2005, il gruppo ha iniziato a suonare dal vivo nel circuito dei club locale culminata con la pubblicazione dell'album di debutto "Anthems Of A Degeneration" nel 2008.
Tracklist:
Fight The System; Bullets In The Sky, Blow Me Away; Impossibile Tie Me Down; rotto, I Am The Rapture, Wicked, Smoke N Mirrors, Headrush, bella gente, ma non è finita; Protest (Bonus Track).
Ecco anche il video di "Bullets in the Sky"
[yframe url='http://www.youtube.com/watch?v=5Npj6s8Ns1g ']
Weblinks: www.milliondollarreload.com  /  www.frontiers.it