I VOLBEAT svelano i dettagli del loro attesissimo sesto album in studio, Seal the Deal & Let's Boogie, in uscita il 3 giugno. La band hard rock danese multiplatino ha già reso disponibile il primo singolo The Devil's Bleeding Crown, che sarà inviato in download gratuito a tutti coloro che pre-ordineranno il disco.
The Devil's Bleeding Crown spicca per un galoppante riff di chitarra accompagnato da un groove propulsivo in stile thrash. La band ha suonato la canzone solo una volta la scorsa estate a Odense, Danimarca, incuriosendo i fan. Il singolo ha un ritornello antemico che verrà cantato in coro ai festival di tutto il mondo. È già destinato a diventare un classico dei VOLBEAT.
Prodotto dal collaboratore di lunga data Jacob Hansen e co-prodotto dal frontman Michael Poulsen e dal chitarrista solista Rob Caggiano, il disco contiene tredici nuovi brani, che riflettono il marchio di fabbrica della band: un ibrido di rock di valore, potenza metal, blues soul e swing rockabilly.
Il cantante Michael Poulsen dichiara: "Dopo mesi di composizione e registrazioni, siamo entusiasti all'idea di presentare al mondo Seal the Deal & Let's. Suonatelo al massimo!".
I VOLBEAT nascono a Copenhagen nel 2001. Da allora, si sono fatti strada con tour infiniti e cinque album di grande successo. Il loro album del 2010 Beyond Hell / Above Heaven ha venduto più di 1.5 milioni di copie anche grazie al singolo "A Warrior's Call". Otto singoli sono entrati nella Top 5 dei singoli di Active Rock con ben cinque numeri uno! Outlaw Gentlemen & Shady Ladies del 2013 è entrato al # 9 della Billboard Top 200 e il singolo "Room 24" con King Diamond ha ricevuto una nomination ai Grammy Award. È disco di platino in Austria, Danimarca, Germania e disco d'oro in Canada, Finlandia, Svizzera e Stati Uniti. I Volbeat parteciperanno ad alcuni festival estivi tra cui il Rock Am Ring in Germania, di cui saranno headliner. La band ha venduto oltre 3.5 milioni di dischi in tutto il mondo.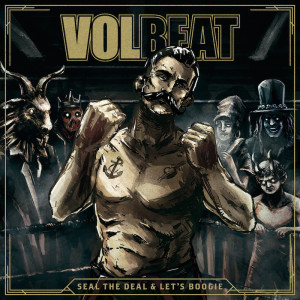 TRACKLISTING:
1.    The Devil's Bleeding Crown
2.    Marie Laveau
3.    For Evigt
4.    The Gates of Babylon
5.    Let It Burn
6.    Black Rose
7.    Rebound
8.    Mary Jane Kelly
9.    Goodbye Forever
10.    Seal The Deal
11.    Battleship Chains
12.    You Will Know
13.    The Loa's Crossroad
www.volbeat.dk/
www.facebook.com/volbeat
www.twitter.com/volbeat
www.instagram.com/volbeat/
www.youtube.com/user/VolbeatVEVO
[mom_video type="youtube" id="YlWke6jK4rI"]