"Mamma Said", potente brano Hard Rock prodotto da Larry Swist (Tina Turner, Lou Gramm, Spyro Gyra) e Alessandro Del Vecchio ( Revolution Saints, Ted Poley, Glen Hughes) caratterizzato da un gustoso groove Funky di cui non potrete fare a meno.
La produzione transoceanica di "The Show Must Go On" porta la cantante Soul Rock Jessie Galante in un nuovo percorso per onorare il marito recentemente scomparso, il produttore doppio disco di platino Larry Swift.
Le 11 tracce del disco sono state registrate in diverse città e nazioni da New York City a Roma. L'album incorpora in maniera universale differenti generi musicali, che si sposano perfettamente con la distintiva voce soul di Galante.
L'album prodotto da Larry Swist (Lou Gramm, Spyro Gyra, Chuck Mangione, Tina Turner) è stato lavorato con un team internazionale di altissimo livello composto da songwriters, musicisti, produttori e ingegneri audio tra i quali. Jack Daley – basso (Lenny Kravitz, Joss Stone); Rob Bailey – chitarra (Anastacia, Aerosmith) e il chitarrista Marc Ribler (Mitch Malloy, Lee Aaron).
Diversi brani dell'album sono mixati dal 14 volte vincitore ai Grammy-award Mick Guzauski (Daft Punk, Eric Clapton, One Direction, Michael Jackson, Madonna).
Il team Europeo di Swist comprende il chitarrista olandese Joop Wolters, dall'Italia Roberto Sterpetti (San Remo, Benedetta Giovagnini); Enrico Scutti (Figure of Six); Alessandro Del Vecchio (Fergie Frederiksen, Neal Schon, Joe Lynn Turner, Glenn Hughes), Mario Percudani (Mitch Malloy, Ted Poley, Hungryheart), Anna Portalupi (Hardline, Tarja Turunen) e Alessandro Mori (Glenn Hughes, Ted Poley).
Nell'album è presente la cover di "Night in White Satin" che vede la partecipazione del team di Jessie Galante che include diversi membri della sua famiglia come il compositore di film Rossano Galante (Live Free or Die Hard, The Wolverine, The Shallows, Avengers); il produttore e musicista Giuseppe Galante e le performance di Carmelo Galante, Joey Jr. Galante e Charlie Galante. Sulla stessa traccia è presente il leggendario bassista Billy Sheehan (Talas, Van Halen, Mr. Big, The Winery Dogs); l'ingegnere Mike Rorick (Living Colour, John Jessel-Toto, Ani DiFranco) e la produzione delle voci è affidata al pluri premiato produttore Armand Petri (Goo Goo Dolls, 10,000 Maniacs, Denny Laine).
Uscita: 12 Maggio
TRACKLIST
1.) Diamond In The Sky
2.) Dreamer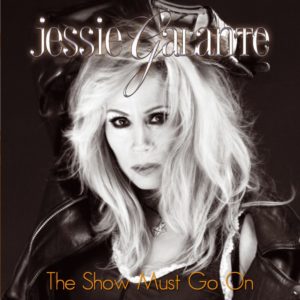 3.) Border Song
4.) Drown
5.) Mamma (I Get A Little Crazy)
6.) More Like Love Divine
7.) Mamma Said
8.) Remains Of The Day
9.) The Show Must Go On
10.) Beautiful Man
11.) Nights In White Satin
Bonus Track (Japan):
12.) Sting Like A Bee
About Jessie Galante:
Jessie Galante ha goduto dell'esperienza di due band di successo da quando ha cominciato a cantare nella sua hometown, Buffalo, nello stato di New York ed è stata incoronata "Buffalo's First Lady Of Rock" assieme alla band Actor.
Spostandosi a Los Angeles, Galante diventa la front woman della band Fire i quali suscitano una grande attrazione internazionale e vengono acclamati a livello locale come una della migliori band di L.A.. Jessie Galante è stata descritta da Music Connection Magazine come "una delle front women più interessanti che L.A. ha da offrire".
Successivamente, continua la propria carriera solista sia negli Stati Uniti, sia in Europa, suonando in Tour in Olanda, Belgio, Ungheria, Italia e Germania. Inserita nella Buffalo Music Hall Of Fame e presente all'Hard Rock Café delle Cascate del Niagara, Galante è in compagnia di artisti come Rick James, Ani Di Franco, Spyro Gyra, The Goo Goo Dolls e Billy Sheehan.
Parafrasando Hans Jurgen Klitsch di Hartbeat Magazine, Germania, "la voce di Jessie è infiammata come quella di Tina Turner al suo massimo, ha il volume di Aretha Franklin e una forza complessiva che fa sembrare semplice tutto quello che fa. La sua voce è grande come Ayers Rock".