La rock band più famosa al mondo, i Mötley Crüe, ha pubblicato oggi "The Dirt Soundtrack" via Mötley Records e E7M (Eleven Seven Music) in concomitanza con l'uscita del band's biopic "The Dirt" disponibile ora su NETFLIX basato sulla celebre autobiografia di Neil Strauss.
I Mötley Crüe hanno inaugurato la settimana del lancio alla NASCAR Grand Marshals con il famoso slogan "Drivers, Start Your Engines" seguito dalla canzone "Kickstart My Heart" alla prima gara della NASCAR Auto Club 400 il 17 marzo.
Ad anticipare l'uscita del film e della soundtrack la band ha svelato un esclusivo murales eseguito dal famoso artista di Los Angeles Robert Vargas al The Whisky a Go Go.
https://www.instagram.com/p/BvIP4iJhsAQ/
La prima mondiale di "The Dirt" si è tenuta lunedì 18 marzo al The ArcLight in Hollywood con l'intera band e il cast presenti all'evento.
Le 18 canzoni della soundtrack sono una raccolta dei maggiori successi della band che sottolineano i momenti significativi del film, masterizzati dal vincitore GRAMMY Dave Donnelly. L'album include 14 hit tra le quali "Dr. Feelgood" (#6 Billboard's Hot 100) e l'inno rock "Girls, Girls, Girls," (#2 Billboard's Top 200). In aggiunta "Kickstart My Heart", "Same 'Ol Situation (S.O.S.)", "Shout At The Devil" e la ballad "Home Sweet Home", ormai celebrata anche nel panorama musicale mainstream (e inserita tra l'altro nel trailer di Stranger Things 3).
In esclusiva per il film e la soundtrack, i Mötley Crüe hanno registrato quattro nuovi brani con il noto produttore Bob Rock, incluso il nuovo singolo "The Dirt (Est. 1981) (feat. Machine Gun Kelly)" che ha raggiunto il #14 posto nella US e Canadian radio charts questa settimana. In aggiunta "Ride With The Devil", "Crash And Burn" e la loro versione della hit mondiale di Madonna "Like A Virgin".
A celebrazione del lancio del film la band ha creato una playlist YouTube che include tutti i loro video più famosi in base alla tracklist, disponibile QUI.
The Dirt Soundtrack Tracklist: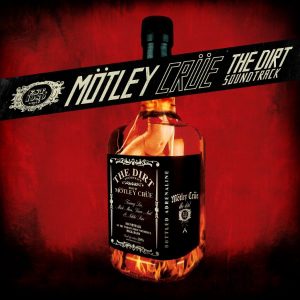 1. The Dirt (Est. 1981) (feat. Machine Gun Kelly)
2. Red Hot
3. On With The Show
4. Live Wire
5. Merry-Go-Round
6. Take Me To The ToP
7. Piece Of Your Action
8. Shout At The Devil
9. Looks That Kill
10. Too Young To Fall In Love
11. Home Sweet Home
12. Girls, Girls, Girls
13. Same Ol' Situation (S.O.S.)
14. Kickstart My Heart
15. Dr. Feelgood
16. Ride With The Devil
17. Crash And Burn
18. Like A Virgin