Una delle rock band più famose al mondo, i Mötley Crüe, hanno annunciato la pubblicazione di "The Dirt Soundtrack" che accompagna l'uscita su Netflix del film The Dirt, basato sulla celebrate autobiografia dei Mötley Crüe e Neil Strauss del 2001. La soundtrack e il film saranno disponibili in tutto il mondo dal 22 marzo.
Il film The Dirt è un racconto senza censure di sesso, droga, rock 'n roll e dell'alto prezzo da pagare quando si eccede. Il direttore artistico Jeff Tremaine (co-creatore di JACKASS) ci mostra come Nikki Sixx (Douglas Booth), Mick Mars (Iwan Rheon), Tommy Lee (Colson Baker) e Vince Neil (Daniel Webber) hanno portato i Mötley Crüe dal Sunset Strip ai palchi di tutto il mondo e cosa è significato diventare una delle rock band più influenti al mondo.
The Dirt Soundtrack include quattro nuove canzoni ed è disponibile in pre-order ORA via Mötley Records e Eleven Seven Music. Il pre-order include l'instant download del singolo "The Dirt (Est. 1981) (feat. Machine Gun Kelly)". Materiale esclusivo tratto dal film e dalla soundtrack sono disponibili nel merch della band.
Le 18 canzoni presenti nella soundtrack sono state masterizzate dal vincitore dei Grammy Dave Donnelly, una raccolta dei maggiori successi dei Mötley Crüe che hanno caratterizzato le parti più salienti del film. L'album vede la presenza di 14 classici come "Dr. Feelgood" e "Girls, Girls, Girls".
In esclusiva per la soundtrack del film, i Mötley Crüe hanno registrato quattro nuove canzoni, tra le quali il singolo "The Dirt (Est. 1981) (feat. Machine Gun Kelly)". Le rimanenti tre vedono la catchy "Ride With The Devil", "Crash And Burn" e la rivisitazione rock del successo di Madonna "Like A Virgin".
Durante la registrazione del film ci siamo sentiti entusiasti e galvanizzati al punto da voler scrivere nuova musica. Da qui la decisione di tornare in studio con Bob Rock, uno dei pochi personaggi capaci di tirare fuori il meglio di noi. Personalmente credo che i nuovi brani suonino esattamente Mötley. I testi sono stati scritti pensando al film, cercando di riflettere su ciò che è stata per noi questa avventura
Nikki Sixx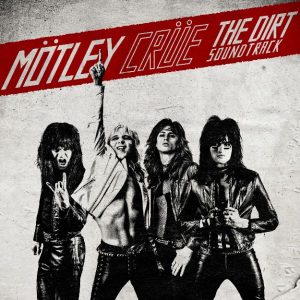 The Dirt Soundtrack Tracklist:
1. The Dirt (Est. 1981) (feat. Machine Gun Kelly)
2. Red Hot
3. On With The Show
4. Live Wire
5. Merry-Go-Round
6. Take Me To The ToP
7. Piece Of Your Action
8. Shout At The Devil
9. Looks That Kill
10. Too Young To Fall In Love
11. Home Sweet Home
12. Girls, Girls, Girls
13. Same Ol' Situation (S.O.S.)
14. Kickstart My Heart
15. Dr. Feelgood
16. Ride With The Devil
17. Crash And Burn
18. Like A Virgin
https://www.facebook.com/MotleyCrue/