La Horror Punk Metal band Raging Dead pubblicherà il suo EP d'esordio autoprodotto "Born In Rage" il 24 Aprile 2015.
Lo stesso giorno verrà presentato nel corso del Release Party che si terrà al Midian di Cremona (Evento Facebook: http://www.facebook.com/events/1398853250429942).
"Born In Rage" è stato interamente realizzato all'Atomic Stuff Studio sotto la guida di Oscar Burato. Atomic Stuff si occuperà della promozione.
"Born In Rage" track list :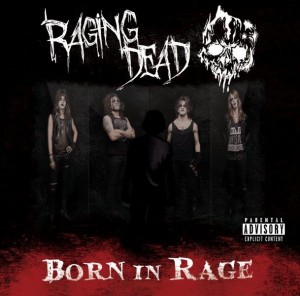 1. Awakening Of The Damned
2. Scratch Me
3. Anathema
4. Redemption
5. Nightstalker
6. Vengeance
I Ragind Dead sono:
Cloud Shade – Voce/Chitarra
Matt Void – Chitarra Solista
Tracii Decadence – Batteria
Simon Nightmare – Basso
Bio:
I Raging Dead sono una Horror Punk Metal band nata all'alba del 2014 da un'idea di Cloud Shade (Voce & Chitarra), al debutto con il giovane Matt Void (Chitarra solista)… Ma la formazione troverà stabilità poco tempo dopo con l'ingresso di Tracii Decadence (Batteria) e Riley Greed (Basso). Lo stile, influenzato prevalentemente da gruppi come Murderdolls, Wednesday 13, Misfits, Marylin Manson, Rob Zombie, Skid Row ecc, ma anche da alcune glorie dell'Underground, è caratterizzato da un sound veloce, aggressivo e d'impatto. I Raging Dead svolgono un primo anno di attività piuttosto intenso in cui riescono a farsi conoscere lungo il nord Italia, trovandosi più volte a suonare con i ben noti gruppi Horror italiani Superhorrorfuck e Scream Baby Scream, ed anche con parecchie band conosciute della scena Glam/Sleaze italiana. Il quartetto trova spazio anche in diversi concerti con gruppi provenienti dall'estero, facendo anche da opening act ufficiale per gli svedesi Sister, che in Europa godono di un certo seguito. A febbraio 2015 la formazione subisce un cambiamento: Simon Nightmare diventa il nuovo bassista dei Raging Dead, e nello stesso periodo registrano il debut EP "Born In Rage" presso l'Atomic Stuff Recording Studio di Isorella (BS). Il lavoro sarà disponibile al pubblico a partire dal 24 aprile al Release Party che si terrà al Midian di Cremona.
Web: www.facebook.com/RagingDead / www.atomicstuff.com/ragingdead.html